Archive for January, 2014
"Rinpoche is in Sera Je Monastery, South India right now," wrote Ven. Roger Kunsang, Lama Zopa Rinpoche's assistant in an update on Rinpoche's health, posted on January 21. "This morning coming back from the long life puja (offered to the ex-abbots and abbot of Sera Je, as well as to the most senior lamas who were around from Tibet and Buxa, and to Lama Zopa Rinpoche), both Geshe Jinpa and Ven. Sangpo and I were walking behind Rinpoche and watching with great interest the improvement in Rinpoche's right leg … the walking action is definitely improving. Then last night I watched as Rinpoche was writing the mantra for putting above the rabbit cage here in Osel Labrang. Again you can see improvement. And the rabbits noticed as well. …"
You can read the entire update and sign up to receive emails of new health updates by visiting "Rinpoche's Health – Official Updates and Practices."
Learn more about FPMT spiritual director Lama Zopa Rinpoche and his beneficial activities by visiting Rinpoche's homepage, where you will find links to Rinpoche's schedule, new advice, recent video, photos and more.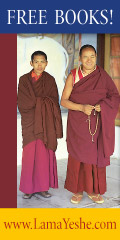 Hearing the teachings benefits your own mind, and later, because of having heard it, you will be able to benefit others.
Lama Zopa Rinpoche
Contact Info
1632 SE 11th Avenue
Portland, OR 97214-4702 USA
Tel (503) 808-1588 | Fax (503) 232-0557
About FPMT
FPMT is an organization devoted to the transmission of the Mahayana Buddhist tradition and values worldwide through teaching, meditation and community service.
more...
About Buddhism
If you're new to Buddhism, please read our
Buddhism FAQ
. A place to learn about Buddhism in general, FPMT, and our Discovering Buddhism at Home series.