[When] you go shopping, watch your motivation, prepare your motivation. When you are in the shop either fulfill the wishes of the guru or shop to benefit and serve other sentient beings. Think that the ultimate purpose is to fulfill the guru's advice. So you buy these things to survive and to fulfill the wishes of the guru or benefit sentient beings. In this way shopping becomes the antidote to attachment, becomes virtuous activity, Dharma, and you collect extensive merit.
– Lama Zopa Rinpoche, from the advice "Making Ordinary Life Actions Meaningful," 2007
More advice can be found on the page "Advice from Lama Zopa Rinpoche."
Learn more about Lama Zopa Rinpoche, spiritual director of the Foundation for the Preservation of Mahayana Tradition (FPMT), and Rinpoche's vision for a better world. Sign up to receive news and updates.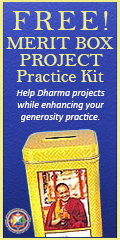 If you cherish another person, another sentient being, there is enlightenment and you cause them to achieve every happiness. If you don't cherish them, there is no enlightenment for you. Therefore, this person, this one sentient being, is the most precious one in one's own life. Therefore, what is called I needs to be let go forever. And what is called other, even one sentient being, that is to be cherished forever.
Lama Zopa Rinpoche
Contact Info
1632 SE 11th Avenue
Portland, OR 97214-4702 USA
Tel (503) 808-1588 | Fax (503) 232-0557
About FPMT
FPMT is an organization devoted to the transmission of the Mahayana Buddhist tradition and values worldwide through teaching, meditation and community service.
more...
About Buddhism
If you're new to Buddhism, please read our
Buddhism FAQ
. A place to learn about Buddhism in general, FPMT, and our Discovering Buddhism at Home series.