"Every time you look at holy objects – pictures of the Buddha, statues, scriptures, stupas – they plant the seed of liberation and enlightenment in your mental continuum. So every time you look at them they purify your mind. They plant the seed of enlightenment, which includes all the causes to achieve enlightenment. How? When you look at them they plant a seed or positive imprint on your mental continuum so that later when you meet Buddhadharma, either in this life or in future lives, you are able to understand the words and the meaning of the teachings. From that, you are able to practice the meaning of the Dharma you have understood, which causes you to cease the gross and subtle defilements by actualizing the path and then your mental continuum becomes omniscient mind. This is what is meant when we say that by seeing holy objects it plants the seed of enlightenment on the mind – it contains the whole path from guru devotion and the three principles up to the two stages of tantra and enlightenment. Seeing holy objects makes us actualize all of this as a result. This is the effect we get from seeing them and this is how they cause us to achieve enlightenment."
– Lama Zopa Rinpoche, from "Why Holy Object Are Precious and Wish-fulfilling," posted on fpmt.org
Learn more about Lama Zopa Rinpoche, spiritual director of the Foundation for the Preservation of Mahayana Tradition (FPMT), and Rinpoche's vision for a better world. Sign up to receive news and updates.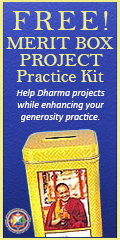 If you listen to the advice of the Buddha – who has only compassion for sentient beings and no trace of self-centred mind; who is perfect in power, wisdom and compassion; whose holy mind is omniscient – all you get is benefit.
Lama Zopa Rinpoche
Contact Info
1632 SE 11th Avenue
Portland, OR 97214-4702 USA
Tel (503) 808-1588 | Fax (503) 232-0557
About FPMT
FPMT is an organization devoted to the transmission of the Mahayana Buddhist tradition and values worldwide through teaching, meditation and community service.
more...
About Buddhism
If you're new to Buddhism, please read our
Buddhism FAQ
. A place to learn about Buddhism in general, FPMT, and our Discovering Buddhism at Home series.