"Now, this is very important: when we start by focusing on the essence of thought, or consciousness, which is formless and colorless, like space, we give ourselves access to recognizing the way our ego interprets our self, or I. When we investigate that further, we come to the conclusion that there's no such self. It's a big zero, and that is the universal truth of emptiness, or nonduality. Our ego's interpretation, our concrete conception, of the I, which appears to be indestructible in nature, is false. It's a wrong view. When you think, 'I want to be happy; I don't want to suffer,' ask yourself the question, 'Where is that I?' Wherever you are, whatever you're doing, ask yourself that question."
– Lama Yeshe, from "Ground Zero: Emptiness as the Basis for Deity Yoga" on the Lama Yeshe Wisdom Archive
Learn more about FPMT founder Lama Yeshe on his homepage on fpmt.org. Many more teachings from Lama Yeshe are freely available from Lama Yeshe Wisdom Archive.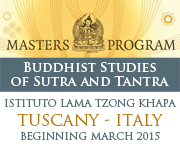 We hear religious people talk a lot about morality. What is morality? Morality is the wisdom that understands the nature of the mind. The mind that understands its own nature automatically becomes moral, or positive; and the actions motivated by such a mind also become positive. That's what we call morality. The basic nature of the narrow mind is ignorance; therefore the narrow mind is negative.
Lama Thubten Yeshe
Contact Info
1632 SE 11th Avenue
Portland, OR 97214-4702 USA
Tel (503) 808-1588 | Fax (503) 232-0557
About FPMT
FPMT is an organization devoted to the transmission of the Mahayana Buddhist tradition and values worldwide through teaching, meditation and community service.
more...
About Buddhism
If you're new to Buddhism, please read our
Buddhism FAQ
. A place to learn about Buddhism in general, FPMT, and our Discovering Buddhism at Home series.