By Jane Seidlitz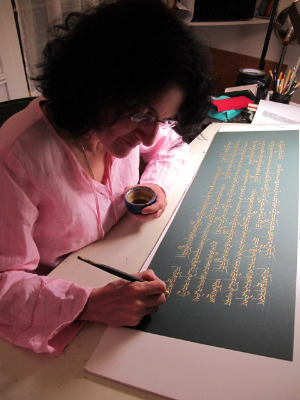 Lama Zopa Rinpoche called me very early one morning in 2004, and after giving me some advice on a thangka I was planning to paint, asked me how my Tibetan handwriting was. "It's okay, not that great," I told him. Well, Rinpoche asked, would I be willing to write a volume of the 100,000 stanza Prajnaparamita Sutra (the longest of the 3 versions)? Rinpoche went on to explain the benefit of writing even one letter of this precious text in black ink – something along the lines of accumulating more merit than all the sentient beings spending eons making offerings to countless universes filled with jewel stupas – let alone how unimaginable the merit would be writing it in real gold. It was a request I couldn't refuse.
So I practiced my Tibetan writing for about six months in black ink, at the end of which I sent a sample to Rinpoche for assessment. Evidently passing the test, I got the go ahead to start writing in gold.
Since then, I have worked more or less steadily – depending on my work schedule and other life distractions. To date I have written 320 pages of what will be about 1400 pages in total. Eventually the text will go in the heart of the Maitreya statue to be built in India. My hope is always to write a page a day, which doesn't often happen. But even if I only write a few lines, or even one letter, it feels worthwhile, and of course every time I set pen to paper I remember what Rinpoche told me about the benefits.
I spent a long time in the beginning looking at many examples to try and make my writing as beautiful and accurate as possible. At that point, writing a page took about seven hours. Gradually, my writing style has coalesced and I can write a page in about half that time. In 2001, when I went to Mongolia with Rinpoche, my job for three weeks was to stir the gold for Rinpoche every night – sometimes all night – while Rinpoche wrote the Prajnaparamita. That was truly magical – I felt like I was living one of those stories from centuries past, the kind we hear about in the teachings. But it didn't occur to me that I would end up some years later doing the writing myself!
I feel tremendously blessed and grateful that Rinpoche has given me this amazing project. My hope is to finish well before I die, to create the cause to realize emptiness – the subject of the text – as quickly as possible, and for whatever merit is created through the writing, to fulfill all of Rinpoche's holy wishes.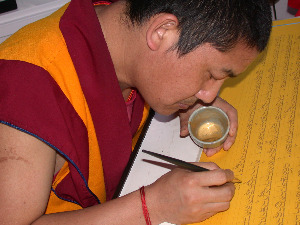 Ven. Tsering has dedicated his life to writing out the Prajnaparamita in pure gold. Effort of this magnitude is worth rejoicing in, as this is the tenth consecutive year he has worked on this project. He has tirelessly offered eight hours a day, five days per week and will continue until completion.

Ven. Tsering's Progress
Ven. Tsering began writing the 12 volume Prajnaparamita in early 2002.
In 2006 he finished the first volume– about 800 pages.
Ven. Tsering finished the second volume in 2011– approximately 700 pages.
July 2012: He is currently halfway through the fourth volume (Jane Seidlitz is writing out the third volume).
About his work, Ven. Tsering says he, "feels very honored and fortunate to be doing this project."
Statements of Appreciation
I'm really glad that I decided to do the (Basic Program) exam and retreat, as it has given me renewed enthusiasm towards more study and meditation, and humility realizing that whatever I think I know is only like a drop in the the ocean of Dharma. My aspiration is to, in this life, create the causes to never be separated from the Mahayana Dharma, to meet it early, and to abandon the householders life, so I can engage wholeheartedly in the practices that will benefit others. Thank you, and the FPMT office, for all you have done in putting this program together and administering it.
– Janet, USA
Contact Info
1632 SE 11th Avenue
Portland, OR 97214-4702 USA
Tel (503) 808-1588 | Fax (503) 232-0557
About FPMT
FPMT is an organization devoted to the transmission of the Mahayana Buddhist tradition and values worldwide through teaching, meditation and community service.
more...
About Buddhism
If you're new to Buddhism, please read our
Buddhism FAQ
. A place to learn about Buddhism in general, FPMT, and our Discovering Buddhism at Home series.