FPMT Centers, Projects and Services in England
Telephone Code for International Calls: 44
Corrections to your center listing can be made by contacting
Center Services
.
Foundation for Developing Compassion and Wisdom
43 Renfrew Road
London SE11 4NA
Tel: 0207 820 9010
compassionandwisdom.org/
Director Linda Gyatso



Jamyang Bath Study Group
New Oriel Hall, Larkhall,
Bath BA1 6RA
Tel: (01373) 670985
www.jamyangbath.org.uk
admin@jamyangbath.org.uk
Coordinator Sandra Whilding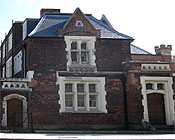 Jamyang Buddhist Centre
The Old Courthouse
43 Renfrew Road
London SE11 4NA
Tel: (0207) 820 8787
Fax: (0207) 820 8605
www.jamyang.co.uk
admin@jamyang.co.uk
Director Roy Sutherwood
Jamyang Buddhist Centre Leeds
31 St Pauls Street
Leeds, LS1 2JG
Tel: (07866) 760 460
www.jamyangleeds.co.uk
smile@jamyangleeds.co.uk
Director Wendy Ridley
Jamyang Mindrol-ling Study Group
Coventry
Tel: (07827) 615652
www.coventry-buddhists.com
coventry-buddhists@hotmail.co.uk
Coordinator Ven. Lobsang Dawa
Land of Joy
c/o The Market House
Market Square
South Petherton
Somerset, TA13 5BT
Tel: (07949) 595691
www.landofjoy.co.uk/
andy.wistreich@btinternet.com
Coordinator Andy Wistreich
Maitreya Loving Kindness Tour
43 Renfrew Road
London SE11 4NA
Tel: (0207) 820 3676
www.maitreyarelictour.com
info@maitreyarelictour.com
Director Victoria Coleman
Saraswati Study Group
Elm Grove, East Street
Drayton, Nr Langport
Somerset, TA10 0JZ
Tel: (01458) 252463
http://www.saraswati.org.uk/
info@saraswati.org.uk
Coordinator Neil Atkinson
Togme Sangpo Study Group
442 Field of Dreams, The Park, Findhorn
Scotland IV36 3TZ
Tel: (01309) 690926
togmesangpo37@gmail.com
Coordinator Margo van Greta
Yeshe Study Group
1 Barn Garth
Haverthwaite
Cumbria, LA12 8AE
Tel: (01539) 531729
yeshebuddhistgroup@live.co.uk
Coordinator Ondy Willson
Statements of Appreciation
First of all, congratulations on the successful launch of the DB Online programme, its fantastic!!! Second, I've long meant to comment on how amazed I am by all resources of the FPMT Education Department, and the breadth of the Education Program worldwide (and accessibility) from DB to the Masters Program. Its all first-rate, from the teachings, the resources and materials, all the booklets, audio and video FPMT offers are quite fantastic, and such an important support for anyones practice at any level. The love that's gone into all of it is abundant and obvious.
– Stephen Austra-Beck
Contact Info
1632 SE 11th Avenue
Portland, OR 97214-4702 USA
Tel (503) 808-1588 | Fax (503) 232-0557
About FPMT
FPMT is an organization devoted to the transmission of the Mahayana Buddhist tradition and values worldwide through teaching, meditation and community service.
more...
About Buddhism
If you're new to Buddhism, please read our
Buddhism FAQ
. A place to learn about Buddhism in general, FPMT, and our Discovering Buddhism at Home series.