FPMT Centers, Projects and Services in England
Telephone Code for International Calls: 44
Corrections to your center listing can be made by contacting
Center Services
.
Jamyang Bath Study Group
New Oriel Hall, Larkhall,
Bath BA1 6RA
Tel: (01373) 670985
www.jamyangbath.org.uk
admin@jamyangbath.org.uk
Coordinator Sandra Whilding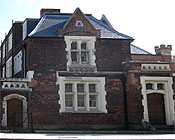 Jamyang Buddhist Centre
The Old Courthouse
43 Renfrew Road
London SE11 4NA
Tel: (0207) 820 8787
Fax: (0207) 820 8605
www.jamyang.co.uk
admin@jamyang.co.uk
Director Roy Sutherwood
Jamyang Buddhist Centre Leeds
31 St Pauls Street
Leeds, LS1 2JG
Tel: (07866) 760 460
www.jamyangleeds.co.uk
smile@jamyangleeds.co.uk
Director Wendy Ridley
Jamyang Coventry Study Group
Coventry
Tel: (07827) 615652
www.coventry-buddhists.com
coventry-buddhists@hotmail.co.uk
Coordinator Ven. Lobsang Dawa
Land of Joy
c/o The Market House
Market Square
South Petherton
Somerset, TA13 5BT
Tel: (07949) 595691
www.landofjoy.co.uk/
andy.wistreich@btinternet.com
Coordinator Andy Wistreich
Maitreya Heart Shrine Relic Tour
43 Renfrew Road
London SE11 4NA
Tel: (0207) 820 3676
www.maitreyarelictour.com
info@maitreyarelictour.com
Director Victoria Coleman
Saraswati Study Group
Elm Grove, East Street
Drayton, Nr Langport
Somerset, TA10 0JZ
Tel: (01458) 252463
http://www.saraswati.org.uk/
info@saraswati.org.uk
Coordinator Neil Atkinson
Togme Sangpo Study Group
442 Field of Dreams, The Park, Findhorn
Scotland IV36 3TZ
Tel: (01309) 690926
togmesangpo37@gmail.com
Coordinator Margo van Greta
Yeshe Study Group
1 Barn Garth
Haverthwaite
Cumbria, LA12 8AE
Tel: (01539) 531729
yeshebuddhistgroup@live.co.uk
Coordinator Ondy Willson
Statements of Appreciation
No words can really completely capture the joyous feelings in my heart when I think of how Rinpoche and FPMT has benefited so many thousands of people these past twenty, thirty years. I have tried several times but each time I am so overwhelmed with the things I want to convey that I just get so choked up. Rinpoche is indescribable – so pure, so patient, so humble and so so wise… and it is really incredible the way everyone at FPMT is constantly supporting and helping Rinpoche in his untiring quest to bring Dharma to so many thousands of us at every level along the path. I am so humbled by Rinpoche's vast wisdom and patience and so inspired by so much effort being put in by my Dharma brothers and sisters in FPMT all working with the unwavering goal of planting seeds, making Dharma accessible, teaching, sharing, inspiring, reaching out, giving a shoulder, and showing the way to attaining the peerless enlightenment and always benefiting others. It is just so blissful knowing I am a small part of Rinpoche's great mandala. Thank you everyone … and most of all thank you to Rinpoche for opening my eyes and my mind to the true meaning and purpose of my life.
– Lillian Too
Contact Info
1632 SE 11th Avenue
Portland, OR 97214-4702 USA
Tel (503) 808-1588 | Fax (503) 232-0557
About FPMT
FPMT is an organization devoted to the transmission of the Mahayana Buddhist tradition and values worldwide through teaching, meditation and community service.
more...
About Buddhism
If you're new to Buddhism, please read our
Buddhism FAQ
. A place to learn about Buddhism in general, FPMT, and our Discovering Buddhism at Home series.