FPMT Centers, Projects and Services in India
Telephone Code for International Calls: 91
Corrections to your center listing can be made by contacting
Center Services
.
Choe Khor Sum Ling Study Group
Ashwini
No.24 First Floor, 3rd Main Street,
Domlur Layout
Bangalore 560071
Tel: (80) 41486497
www.cksl.in
info@cksl.in
Coordinator Shanti Yajnik
Lotsawa Rinchen Zangpo Translator Programme
c/o Rato Chuwar Labrang
Phuntsok Gatsel
Session Rd, Dharamsala
Distt Kangra H.P. 176215
http://lrztp.blogspot.com/
lrztp6@yahoo.in
Director Sally Dudgeon
The Maitreya Project Trust
Kanta House, Cinema Road
Gorakhpur 237 001
Uttar Pradesh, India
Tel: 551 2342012
Fax: 551 2342512
www.maitreyaproject.org/en/index.html
india@maitreyaproject.org
MAITRI Charitable Trust
PO Box 32
Bodhgaya, Gaya District
Bihar 824 231
Tel: (631) 2200 841
Fax: (631) 2201 946
www.maitri-bodhgaya.org
ferranti@ndc.vsnl.net.in
Director Adriana Ferranti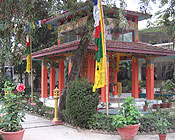 Root Institute
Bodhgaya, Gaya District
Bihar 824 231
Tel: (631) 2200 714
Fax: (631) 2200 548
www.rootinstitute.com
info@rootinstitute.com
Director Ven. Thubten Labdron
      Projects of Root Institute:
     Maitreya School
     Shakyamuni Buddha Community Health Care Centre
Sera IMI House
Shedrup Sungdrel Ling
88 Sera Je Monastery
PO Bylakuppe 571104
Karnataka
seraimihouse@gmail.com
Director Ven Tenzin Namdak
Tushita Mahayana Meditation Centre
9 Padmini Enclave, Hauz Khas
New Delhi 110 016
Tel: (11) 2651 3400
Fax: (11) 2469 2963
mahayanadelhi@gmail.com
Director Renuka Singh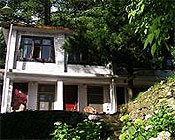 Tushita Meditation Centre
McLeod Ganj, Dharamsala
Kangra District
HP 176 219
Tel: (1892) 221866
Fax: (1892) 221246 Attn Tushita
www.tushita.info
director@tushita.info
Director Linda Lowry
Statements of Appreciation
I'm really glad that I decided to do the (Basic Program) exam and retreat, as it has given me renewed enthusiasm towards more study and meditation, and humility realizing that whatever I think I know is only like a drop in the the ocean of Dharma. My aspiration is to, in this life, create the causes to never be separated from the Mahayana Dharma, to meet it early, and to abandon the householders life, so I can engage wholeheartedly in the practices that will benefit others. Thank you, and the FPMT office, for all you have done in putting this program together and administering it.
– Janet, USA
Contact Info
1632 SE 11th Avenue
Portland, OR 97214-4702 USA
Tel (503) 808-1588 | Fax (503) 232-0557
About FPMT
FPMT is an organization devoted to the transmission of the Mahayana Buddhist tradition and values worldwide through teaching, meditation and community service.
more...
About Buddhism
If you're new to Buddhism, please read our
Buddhism FAQ
. A place to learn about Buddhism in general, FPMT, and our Discovering Buddhism at Home series.