The Supreme Gift of Immortal Life; The Way to Perform the Thousand Offerings in relation to the Ritual of the Self and Front Generation of the Noble Ushnishavijaya was translated from the Tibetan by Ven. Tenzin Gyurme the Tibetan using the text published by Sherig Parkhang. It is appropriate for those who have received a jenang of Ushnivijaya/Namgyalma, based upon a great initiation into the action class of tantra.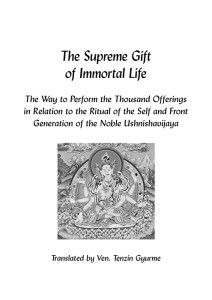 Included is A Prayer that Spontaneously Fulfills All Wishes, composed by His Holiness the Dalai Lama and translated by Lama Zopa Rinpoche, as well as Remembering the Kindness of His Holiness the Dalai Lama and the Tibetan People, a prayer for the success of His Holiness the Dalai Lama and the Tibetan people, composed and translated by Lama Zopa Rinpoche.
This practice is available as a non-reflowable PDF which can be used with electronic devices such as Kindle or iPad. However, PDF formatting is fixed and is not open like e-publication files especially made for these devices. It is also available in booklet letter and A4 formats.

Statements of Appreciation
No words can really completely capture the joyous feelings in my heart when I think of how Rinpoche and FPMT has benefited so many thousands of people these past twenty, thirty years. I have tried several times but each time I am so overwhelmed with the things I want to convey that I just get so choked up. Rinpoche is indescribable – so pure, so patient, so humble and so so wise… and it is really incredible the way everyone at FPMT is constantly supporting and helping Rinpoche in his untiring quest to bring Dharma to so many thousands of us at every level along the path. I am so humbled by Rinpoche's vast wisdom and patience and so inspired by so much effort being put in by my Dharma brothers and sisters in FPMT all working with the unwavering goal of planting seeds, making Dharma accessible, teaching, sharing, inspiring, reaching out, giving a shoulder, and showing the way to attaining the peerless enlightenment and always benefiting others. It is just so blissful knowing I am a small part of Rinpoche's great mandala. Thank you everyone … and most of all thank you to Rinpoche for opening my eyes and my mind to the true meaning and purpose of my life.
– Lillian Too
Contact Info
1632 SE 11th Avenue
Portland, OR 97214-4702 USA
Tel (503) 808-1588 | Fax (503) 232-0557
About FPMT
FPMT is an organization devoted to the transmission of the Mahayana Buddhist tradition and values worldwide through teaching, meditation and community service.
more...
About Buddhism
If you're new to Buddhism, please read our
Buddhism FAQ
. A place to learn about Buddhism in general, FPMT, and our Discovering Buddhism at Home series.