Eating is something we must do every day and offering our daily meals is an excellent way to practice generosity and create merit as we nourish our own bodies.
FPMT Education Services has create a Food Offering Practice book which includes an extensive food offering practice, general food offering prayers, and the yogas of eating food according to Hinayana (and for Sangha), Mahayana Sutra and Mahayana Tantra.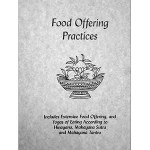 This book is available in hard copy and eBook formats.
You can help offer three meals a day to the 2,500 monks of Sera Je Monastery by contributing any amount to the Sera Je Food Fund.
Statements of Appreciation
First of all, congratulations on the successful launch of the DB Online programme, its fantastic!!! Second, I've long meant to comment on how amazed I am by all resources of the FPMT Education Department, and the breadth of the Education Program worldwide (and accessibility) from DB to the Masters Program. Its all first-rate, from the teachings, the resources and materials, all the booklets, audio and video FPMT offers are quite fantastic, and such an important support for anyones practice at any level. The love that's gone into all of it is abundant and obvious.
– Stephen Austra-Beck
Contact Info
1632 SE 11th Avenue
Portland, OR 97214-4702 USA
Tel (503) 808-1588 | Fax (503) 232-0557
About FPMT
FPMT is an organization devoted to the transmission of the Mahayana Buddhist tradition and values worldwide through teaching, meditation and community service.
more...
About Buddhism
If you're new to Buddhism, please read our
Buddhism FAQ
. A place to learn about Buddhism in general, FPMT, and our Discovering Buddhism at Home series.