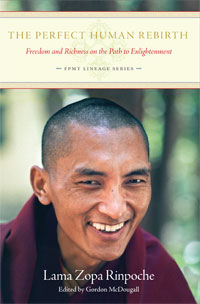 Lama Zopa Rinpoche's The Perfect Human Rebirth: Freedom and Richness on the Path to Enlightenment, edit by Gordon McDougall, is the third book in the FPMT Lineage Series published by the Lama Yeshe Wisdom Archive.
The FPMT Lineage series is comprised of books of Lama Zopa Rinpoche's teachings on the graduated path to enlightenment (lam-rim) drawn from his four decades of discourses on the topic based on his own textbook, The Wish-fulfilling Golden Sun, and several traditional lam-rim texts. The books in general are arranged according to the outline of Pabongka Rinpoche's Liberation in the Palm of Your Hand.
The first in this series is Heart of the Path and the second is How to Practice Dharma: Teachings on the Eight Worldly Dharmas. The Lama Yeshe Wisdom Archive is now actively working on the next book in the series, Rinpoche's teachings on impermanence and death.
In my mind, one of the beauties of Buddhism is that it offers us a practical training for our mind. It does not say, 'Bodhicitta is fantastic because Buddha said so!' Instead, it gives us the methods for developing such an attitude and we can then see for ourselves whether it works or not, whether it is fantastic or not.
Lama Thubten Yeshe
Contact Info
1632 SE 11th Avenue
Portland, OR 97214-4702 USA
Tel (503) 808-1588 | Fax (503) 232-0557
About FPMT
FPMT is an organization devoted to the transmission of the Mahayana Buddhist tradition and values worldwide through teaching, meditation and community service.
more...
About Buddhism
If you're new to Buddhism, please read our
Buddhism FAQ
. A place to learn about Buddhism in general, FPMT, and our Discovering Buddhism at Home series.