FPMT is unbelievably fortunate that we have many qualified teachers who are not only scholars but are living in practice. If you look, then you can understand how fortunate we are having the opportunity to study. With our Dharma knowledge and practice we can give the light of Dharma to others, in their heart. I think that's the best service to sentient beings, the best service to the world.
 
There is an abundance of ways to study at FPMT centers or with FPMTs homestudy programs. Whether you are a beginner or an advanced practitioner, if you are wondering about the next step to take on your spiritual journey, please refer to the FPMT Education Programs page.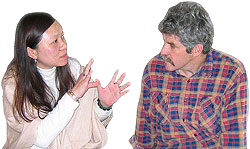 Education is the very heart of FPMT. Through comprehensive study programs, practice materials, training programs, and scholarships, FPMT Education nourishes the development of compassion, wisdom, kindness, and true happiness in individuals of all ages.
| | |
| --- | --- |
| | FPMT offers a vast range of Buddhist study programs available in FPMT centers and as homestudy or correspondence courses. From introductory courses to the highest philosophical texts, FPMT provides everything needed to learn, practice, and fully realize the Buddha's teachings. |
| | FPMT publishes Buddhist prayer books, sadhanas, retreat materials, and practice texts from the Gelugpa tradition, many with commentary by Lama Thubten Yeshe and Lama Zopa Rinpoche. DVDs and CDs of prayers, commentaries, and teachings inspire and inform students' practice. Our practice materials are available from The Foundation Store. |
| | FPMT Training Programs provide support and training to students offering service within FPMT centers and projects. |
| | As the Dharma takes root in the West, clear translations of Buddhist texts, prayers, and teachings are crucial. FPMT works with translators around the world to translate Tibetan texts into English, Spanish, Chinese, French, German, and many other languages. |
| | FPMT Education has established three distinct funds, enabling you to offer support to our critical work. |
| | FPMT provides Dharma practice materials, support, children's classes and camps, and a whole secular organization just for youth and young adults! |
| | Universal Wisdom Educationdevelops Lama Yeshe's goal of "a new kind of education for the world." It aims to empower children, youth and adults to make a positive difference in the world through developing their innate capacity to be kind and wise, and to live in a way that will bring peace and wellbeing to themselves and the people around them. |
To learn more about supporting FPMT Education, follow the links above to the Translation and Scholarship Funds, or see the Practice Generosity section of the Foundation Store.
FPMT Education Services works closely with the Lama Yeshe Wisdom Archive, the official archive of the teachings of Lama Thubten Yeshe and Lama Zopa Rinpoche.
Without understanding how your inner nature evolves, how can you possibly discover eternal happiness? Where is eternal happiness? It's not in the sky or in the jungle; you won't find it in the air or under the ground. Everlasting happiness is within you, within your psyche, your consciousness, your mind. That's why it's important that you investigate the nature of your own mind.
 
Statements of Appreciation
I feel like FPMT is taking off like a rocket this year!  I'm so happy for Rinpoche and Lama and everyone who is working, helping, studying or operating any of the centers, study groups, etc.  Amazing.
– Victoria, Aug 2009
Contact Info
1632 SE 11th Avenue
Portland, OR 97214-4702 USA
Tel (503) 808-1588 | Fax (503) 232-0557
About FPMT
FPMT is an organization devoted to the transmission of the Mahayana Buddhist tradition and values worldwide through teaching, meditation and community service.
more...
About Buddhism
If you're new to Buddhism, please read our
Buddhism FAQ
. A place to learn about Buddhism in general, FPMT, and our Discovering Buddhism at Home series.