Prayer Wheels: Resources and Information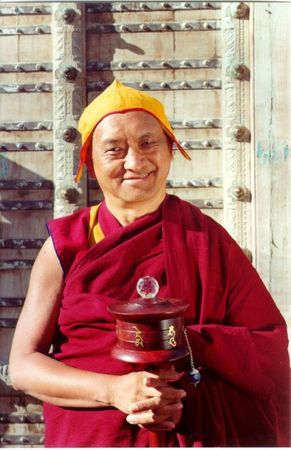 Prayer wheels are filled with mantras traditionally printed on strips of paper and tightly rolled around the core. These days mantras are reproduced onto microfilm; the more mantras, the more powerful. Prayer wheels can be small enough to be held in the hand, table-based or can be very large containing billions of mantras.
Information About and Benefits of Prayer Wheels
"The Benefits of Making Prayer Wheels" by Lama Zopa Rinpoche
"Wheel of Great Compassion: The Practice of the Prayer Wheel in Tibetan Buddhism" Edited by Lorne Ladner, Foreword by Lama Zopa Rinpoche
Microfilm for Stupas and Prayer Wheels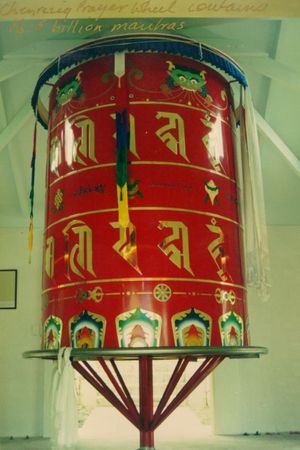 Prayer Wheels Available through the FPMT Foundation Store
Information on how to fill a prayer wheel.
Prayer Wheel Fund for Peace
Statements of Appreciation
First of all, congratulations on the successful launch of the DB Online programme, its fantastic!!! Second, I've long meant to comment on how amazed I am by all resources of the FPMT Education Department, and the breadth of the Education Program worldwide (and accessibility) from DB to the Masters Program. Its all first-rate, from the teachings, the resources and materials, all the booklets, audio and video FPMT offers are quite fantastic, and such an important support for anyones practice at any level. The love that's gone into all of it is abundant and obvious.
– Stephen Austra-Beck
Contact Info
1632 SE 11th Avenue
Portland, OR 97214-4702 USA
Tel (503) 808-1588 | Fax (503) 232-0557
About FPMT
FPMT is an organization devoted to the transmission of the Mahayana Buddhist tradition and values worldwide through teaching, meditation and community service.
more...
About Buddhism
If you're new to Buddhism, please read our
Buddhism FAQ
. A place to learn about Buddhism in general, FPMT, and our Discovering Buddhism at Home series.