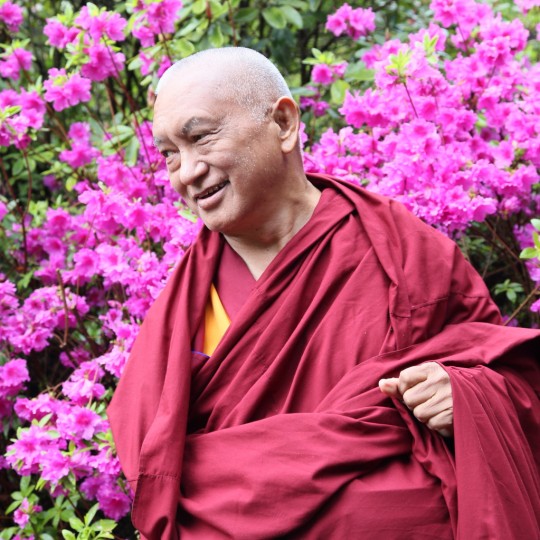 In case you missed the live webcast, you can watch the recorded video from Lama Zopa Rinpoche's preliminary teachings while he was at Maitripa College in Portland, Oregon, April 19-22. While at Maitripa, Rinpoche gave a Vajrasattva initiation, an oral
… Read full article
Current Advice
Lama Zopa Rinpoche replied to a student who had concerns about health and having given back their ordinations vows, which led to them feeling very isolated and depressed and being unable to study or practice:
"If you can study lam-rim, that should be the main teaching – just like the wandering ascetics, the monks whose only belonging is the Lamrim Chenmo. They don't have anything else, don't carry anything but the lam-rim, so like that. So that is the main one to study, to meditate on – the lam-rim. You have to actualize this, otherwise we will suffer. Without realizations on guru devotion, renunciation, bodhichitta, right view and particularly tantra, you will be suffering in samsara endlessly. Do you want to do that? I don't think so.
You should know it's not just practice for this lifetime. The practice becomes preparation for all your lives, so eons, eons, eons, all your future lives, to go to a pure land, then enlightenment, to be free from samsara, enlightenment and then to benefit all sentient beings and enlighten them. Don't think you are alone." …
Read the full advice
Recent Photos
Dear Friends, Rinpoche is in Sera Je Monastery, South India right now. This morning coming back from the long life puja (offered to the ex-Abbots and Abbot of Sera Je, as well as to the most senior lamas who were
… Read full article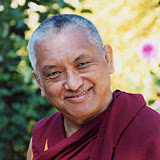 Lama Zopa Rinpoche
Lama Zopa Rinpoche was born in 1946 in Thami, in the Mount Everest region of Nepal, not far from the Lawudo cave where his predecessor had meditated for the last 20 years of his life. Lama Zopa Rinpoche is the Spiritual Director of the Foundation for the Preservation of the Mahayana Tradition and oversees all of its activities.
Read the latest News about Lama Zopa Rinpoche including: updates on his health, stories, videos, photos, schedule, blog, and advice.

Education is the very heart of FPMT. Through comprehensive study programs, practice materials, training programs, and scholarships, FPMT nourishes the development of compassion, wisdom, kindness, and true happiness in individuals.
Whether you are a beginner or an advanced practitioner, take the next step to take on your spiritual journey. Education Programs »

Stupa Fund
The Stupa Fund provides the resources needed for building 100,000 stupas around the world in order to create the cause for world peace. This is one of Lama Zopa Rinpoche's Vast Visions for FPMT.
more…

Offer your support for the work of FPMT International Office in developing education programs, publishing authentic Dharma materials, supporting FPMT centers, project and services. As a Friend of FPMT, you receive Mandala magazine as well as access to the FPMT Online Learning Center and more.

With over 50 modules available in English, Spanish and French, and more than 10,000 registered users, the FPMT Online Learning Center provides an enormous opportunity to learn. Students can engage in the comprehensive programs developed by FPMT Education Services without leaving home.

The Foundation Store provides a vast selection of Buddhist Study materials including Prayers & Practices, Home Study & Online Programs, and Dharma study Materials for Children.
Visit Meditation Supplies for a variety of Malas, Incense, Ritual Items, Accessories, and much more.

LYWA is the Archive of FPMT. It contains the recordings and transcripts of Lama Thubten Yeshe's and Kyabje Lama Thubten Zopa Rinpoche's teachings dating back to the early 1970s. You can read transcripts, view photos and listen to teachings. more…
What is the Foundation for the
Preservation of the Mahayana Tradition?
The FPMT is an organization devoted to the transmission of the Mahayana Buddhist tradition and values worldwide through teaching, meditation and community service. We provide integrated education through which people's minds and hearts can be transformed into their highest potential for the benefit of others, inspired by an attitude of universal responsibility. We are committed to creating harmonious environments and helping all beings develop their full potential of infinite wisdom and compassion.
Die Stiftung zur Erhaltung der Mahayana-Tradition hat es sich zur Aufgabe gemacht, diese buddhistische Tradition und ihre Werte weltweit zugänglich zu machen. Unsere Organisation bietet Unterweisungen des tibetischen Buddhismus, Meditation, soziale Dienstleistungen, Klausurzentren und Projekte, die dazu beitragen, diese Tradition zu erhalten. Sie hat ihre Grundlage in der Gelugpa-Überlieferung der Lehren des tibetischen Meisters Tsongkhapa, die wir in Form der Unterweisungen von Lama Yesche, des Gründers dieser Organisation, und unseres spirituellen Leiters Lama Zopa Rinpotsche weitergeben.
Im Folgenden finden Sie eine Liste von Zentren und deren Website in Ihrer bevorzugten Sprache.
La Fundación para la preservación de la tradición Mahayana (FPMT) se dedica a la transmisión de la tradición y valores budistas mahayana en todo el mundo a través de enseñanzas de budismo tibetano, meditación, servicio a la comunidad, centros de retiro y proyectos que preservan la tradición. La FPMT está basada en la tradición guelugpa de Lama Tsong Khapa del Tíbet, tal como nos han enseñado nuestro fundador, Lama Thubten Yeshe, y nuestro director espiritual, Lama Zopa Rimpoché.
A continuación puede ver una lista de los centros y sus páginas web en su lengua preferida.
La Fondation pour la Préservation de la Tradition du Mahayana (FPMT) est une organisation consacrée à la transmission dans le monde entier de la tradition et des valeurs du bouddhisme du mahayana, par l'enseignement, la méditation, les œuvres à caractère social, les centres de retraite et les projets qui préservent la tradition. La FPMT est fondée sur la tradition guéloukpa de Lama Tsongkhapa du Tibet, telle qu'elle a été enseignée par notre fondateur Lama Thoubtèn Yéshé et notre directeur spirituel, Lama Zopa Rinpoché.
Visitez le site de notre Bureau de traduction pour les traductions, conseils et nouvelles en français.
Voici une liste de centres et de leurs sites dans votre langue préférée
La Fondazione per la Preservazione della Tradizione Mahayana (FPMT), opera per diffondere in tutto il mondo i valori e la tradizione buddhista attraverso gli insegnamenti del buddhismo tibetano, la meditazione, i centri di ritiro, le attività a carattere sociale e vari progetti mirati a preservare la tradizione stessa. L'FPMT si basa sul lignaggio Gelugpa e sugli insegnamenti del maestro tibetano Lama Tzongkhapa così come sono stati trasmessi dal nostro fondatore Lama Thubten Yeshe e dal direttore spirituale, Lama Zopa Rinpoche.
Di seguito potete trovare un elenco dei centri e dei loro siti nella lingua da voi prescelta.
The power of Rinpoche's bodhichitta coupled with the effectiveness of Rinpoche's projects makes the
Merit Box
an essential method for committed FPMT students to accumulate merit by practicing generosity towards the purest object, the Guru.
more…
WORK A DAY

This year we celebrate Saka Dawa on June 4 and we are inviting you to contribute to Work a Day for Rinpoche, a fund that supports Rinpoche's beneficial programs and projects. By dedicating your virtuous activities on Saka Dawa towards the realization of Lama Zopa Rinpoche's compassionate wishes and donating your salary from that day to the fund, you are able to make a meaningful contribution towards benefiting all beings.

is a magnificent 500ft/152m bronze statue in the form of Maitreya Buddha. The statue is being built to last at least 1,000 years, providing an enduring monument to the quality of loving-kindness. The purpose is to bring as much benefit as possible, for as long as possible – spiritually, in education and healthcare, and economically, through the direct and indirect creation of employment opportunities.