Lama Zopa Rinpoche received Mandala July-September 2014 in California last Friday and lost no time looking through the new issue. In addition to featuring Rinpoche's many virtuous activities during the Days of Miracles, Mandala highlighted some of the work FPMT centers, projects and services are doing to help children and cultivate the seeds of compassion in the minds of the young.
Mandala magazine is offered as a benefit of the Friends of FPMT program. If you'd like to receive the quarterly publication, please consider joining our Friends program, which supports the education, web streaming and communications work of FPMT International Office. 
In addition to the print magazine, Mandala published a dozen new stories online and continues to add new stories daily to the blogs "Lama Zopa Rinpoche News" and "FPMT News around the World."
Learn more about Lama Zopa Rinpoche, spiritual director of the Foundation for the Preservation of Mahayana Tradition (FPMT), and Rinpoche's vision for a better world. Sign up to receive news and updates.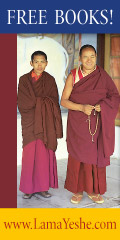 We are not compelled to meditate by some outside agent, by other people, or by God. Rather, just as we are responsible for our own suffering, so are we solely responsible for our own cure. We have created the situation in which we find ourselves, and it is up to us to create the circumstances for our release. Therefore, as suffering permeates our life, we have to do something in addition to our regular daily routine. This "something" is spiritual practice or, in other words, meditation.
The Purpose of Meditation
Lama Yeshe Wisdom Archive
Lama Zopa Rinpoche
Contact Info
1632 SE 11th Avenue
Portland, OR 97214-4702 USA
Tel (503) 808-1588 | Fax (503) 232-0557
About FPMT
FPMT is an organization devoted to the transmission of the Mahayana Buddhist tradition and values worldwide through teaching, meditation and community service.
more...
About Buddhism
If you're new to Buddhism, please read our
Buddhism FAQ
. A place to learn about Buddhism in general, FPMT, and our Discovering Buddhism at Home series.