By Ven. Sarah Thresher
Lama Zopa Rinpoche has been staying at Root Institute in Bodhgaya, India, where he has been engaged in nonstop virtuous activities. Ven. Sarah Thresher was with Rinpoche in Bodhgaya and shares this report.
Rinpoche designed and commissioned an altar for the rooftop of his house at Root Institute. Not just one small altar filled with pictures, statues of buddhas, water bowl offerings and light offerings, but a series of altars that stretch the width of the rooftop. Rinpoche wanted people to see this new altar to get some ideas and inspiration. Holy objects are incredibly precious and if we don't make full use of them, we are wasting our good fortune.
This is where Rinpoche does prostrations facing towards the Mahabodhi Stupa. Rinpoche does not always need assistance to do full length prostrations, but he has replaced the wooden prostration board with a mattress just in case.
UPDATE: Root Institute director Ven. Thubten Labdron wrote to Mandala that "Rinpoche said this altar is not just for Rinpoche. Anyone can come and do their prostration ngöndro on the roof (when Rinpoche is not in residence)."
You can read more from Ven. Sarah Thresher on Rinpoche's activites in Bodhgaya online.
Learn more about Lama Zopa Rinpoche, spiritual director of the Foundation for the Preservation of Mahayana Tradition (FPMT), and Rinpoche's vision for a better world. Sign up to receive news and updates.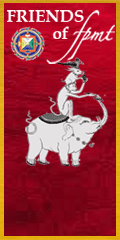 I hope that you understand what the word 'spiritual' really means. It means to search for – to investigate – the true nature of the mind. There's nothing spiritual outside. My rosary isn't spiritual; my robes aren't spiritual. Spiritual means the mind and spiritual people are those who seek its nature.
Lama Thubten Yeshe
Contact Info
1632 SE 11th Avenue
Portland, OR 97214-4702 USA
Tel (503) 808-1588 | Fax (503) 232-0557
About FPMT
FPMT is an organization devoted to the transmission of the Mahayana Buddhist tradition and values worldwide through teaching, meditation and community service.
more...
About Buddhism
If you're new to Buddhism, please read our
Buddhism FAQ
. A place to learn about Buddhism in general, FPMT, and our Discovering Buddhism at Home series.