You have to remember buddha nature. In the emptiness of your heart, remember you have buddha nature. Delusions are not permanent, they are not part of you, they are temporary. You can be free from delusions and negative karma. Like a mirror covered by dust, you can clean it. The more you clean it, the clearer the reflection becomes. Your mind becomes clearer the more the delusions are purified.
– Lama Zopa Rinpoche, from the letter "Depression, Karma and Delusions," posted on "Lama Zopa Rinpoche's Online Advice Book," April 2011
Lama Zopa Rinpoche is the spiritual director of the Foundation for the Preservation of Mahayana Tradition (FPMT), an organization dedicated to preserving Mahayana Buddhism through offering the Buddha's authentic teachings and to facilitating reflection, meditation, practice and the opportunity to actualize and directly experience the Buddha's teachings. Sign up to receive news and updates.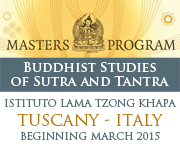 Superficial observation of the sense world might lead you to believe that people's problems are different, but if you check more deeply, you will see that fundamentally, they are the same. What makes people's problems appear unique is their different interpretation of their experiences.
Lama Thubten Yeshe
Contact Info
1632 SE 11th Avenue
Portland, OR 97214-4702 USA
Tel (503) 808-1588 | Fax (503) 232-0557
About FPMT
FPMT is an organization devoted to the transmission of the Mahayana Buddhist tradition and values worldwide through teaching, meditation and community service.
more...
About Buddhism
If you're new to Buddhism, please read our
Buddhism FAQ
. A place to learn about Buddhism in general, FPMT, and our Discovering Buddhism at Home series.