In 1974, FPMT founders Lama Yeshe and Lama Zopa Rinpoche were continuing to teach Kopan meditation courses at the request of their Western students. The courses, which are still offered annually, exposed students to their unique and experiential understanding of lam-rim. It also gave attendees the opportunity to see the special relationship Lama and Rinpoche had as guru and disciple.
Adele Hulse records some of the stories of the 1974 Kopan courses in Big Love, the forthcoming biography of FPMT founder Lama Yeshe. Lama Yeshe Wisdom Archive will publish Big Love later this year and has been sharing excerpts from the book on their Big Love blog. The following is from a recent post:
One day when one of the course participants was speaking with Lama Yeshe in his room, Lama Zopa came in, fell to his knees, and started to pray. For the benefit of that student Lama pointed toward himself and said, "Dorje Chang," indicating that Rinpoche was seeing him in the aspect of Dorje Chang. ("Who is Dorje Chang?" a student once asked him. "The biggest buddha, dear," Lama replied.) Some students reported that they had seen Rinpoche making offerings to Lama Yeshe with tears running down his face. At other times he would not raise his eyes to look at Lama at all. Lama Yeshe was often heard speaking brusquely to Rinpoche; at the same time he also told students that Rinpoche was one of the most highly evolved beings on this planet. Lama Yeshe addressed Lama Zopa as "Kusho." This term is generally translated from the Tibetan as "your honor" or "your worship," and is how Tibetans commonly address monks and others of higher rank in society. These translations, however, in no way capture the clear warmth and affection expressed when Lama Yeshe addressed Rinpoche in that way. Lama actually told one student that compared to Rinpoche, he himself was just a water buffalo. And late at night, when the two lamas were alone together, all that students ever heard was an indescribable cascade of their laughter pouring out across the hill, like two buddhas in total bliss.
Read the entire post by Adele Hulse on the Big Love blog.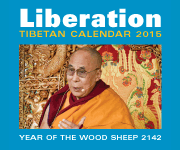 We are not compelled to meditate by some outside agent, by other people, or by God. Rather, just as we are responsible for our own suffering, so are we solely responsible for our own cure. We have created the situation in which we find ourselves, and it is up to us to create the circumstances for our release. Therefore, as suffering permeates our life, we have to do something in addition to our regular daily routine. This "something" is spiritual practice or, in other words, meditation.
The Purpose of Meditation
Lama Yeshe Wisdom Archive
Lama Zopa Rinpoche
Contact Info
1632 SE 11th Avenue
Portland, OR 97214-4702 USA
Tel (503) 808-1588 | Fax (503) 232-0557
About FPMT
FPMT is an organization devoted to the transmission of the Mahayana Buddhist tradition and values worldwide through teaching, meditation and community service.
more...
About Buddhism
If you're new to Buddhism, please read our
Buddhism FAQ
. A place to learn about Buddhism in general, FPMT, and our Discovering Buddhism at Home series.