During His Holiness the Dalai Lama's visit to Portland, Oregon, in May 2013, His Holiness spoke on the situation in China at a press conference. His Holiness told the media that while things have been very difficult for Tibetans, he is hopeful for the future.
His Holiness cites as an example how many mainland Chinese are now coming to see him in Dharamsala, India and that they are showing genuine interest in Tibetan Buddhism. In addition, His Holiness said there is growing recognition that censorship in China is ultimately self-destructive.  
"1.3 billion Chinese people have every right to know the reality. Once they know reality, 1.3 billion Chinese people also have the ability to judge what's right and what's wrong," His Holiness said. "So, censorship is morally wrong and very harmful. … Trust is the basis of harmony and unity. Censorship destroys that trust."
His Holiness also called for improvement of the Chinese legal system, saying it must come up to the level of international legal standards.
You can listen to His Holiness' complete response to the question of Tibet and China:  
Audio recorded during the Dalai Lama Environmental Summit press conference in Portland, Oregon, May 11, 2013. (Audio available for download as an MP3.)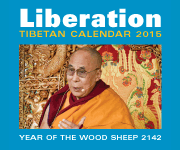 If you cherish another person, another sentient being, there is enlightenment and you cause them to achieve every happiness. If you don't cherish them, there is no enlightenment for you. Therefore, this person, this one sentient being, is the most precious one in one's own life. Therefore, what is called I needs to be let go forever. And what is called other, even one sentient being, that is to be cherished forever.
Lama Zopa Rinpoche
Contact Info
1632 SE 11th Avenue
Portland, OR 97214-4702 USA
Tel (503) 808-1588 | Fax (503) 232-0557
About FPMT
FPMT is an organization devoted to the transmission of the Mahayana Buddhist tradition and values worldwide through teaching, meditation and community service.
more...
About Buddhism
If you're new to Buddhism, please read our
Buddhism FAQ
. A place to learn about Buddhism in general, FPMT, and our Discovering Buddhism at Home series.