On Saturday, April 19 at 7 p.m. PDT, Lama Zopa Rinpoche will offer a Vajrasattva initiation at Maitripa College in Portland, Oregon, United States. Then on Monday, April 21 at 7 p.m., Rinpoche will offer the oral transmission of the preliminary practice of Dorje Khadro. All public portions of the Vajrasattva initiation and oral transmission will be webcast live courtesy of Maitripa College. 
Lama Zopa Rinpoche arrived in the United States in early April, staying at Buddha Amitabha Pure Land in rural northcentral Washington State before coming south to Portland for the teachings at Maitripa. 
In early May, Rinpoche will be teaching at the Light of the Path Retreat in North Carolina, US. The teachings during the retreat will be streamed live as well as made available after the event on demand. 
More information, photos, schedule and updates about FPMT spiritual director Lama Zopa Rinpoche can be found on Rinpoche's homepage. If you'd like to receive news of Lama Zopa Rinpoche via email, sign up to Lama Zopa Rinpoche News.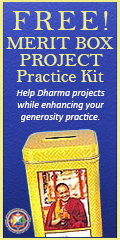 We hear religious people talk a lot about morality. What is morality? Morality is the wisdom that understands the nature of the mind. The mind that understands its own nature automatically becomes moral, or positive; and the actions motivated by such a mind also become positive. That's what we call morality. The basic nature of the narrow mind is ignorance; therefore the narrow mind is negative.
Lama Thubten Yeshe
Contact Info
1632 SE 11th Avenue
Portland, OR 97214-4702 USA
Tel (503) 808-1588 | Fax (503) 232-0557
About FPMT
FPMT is an organization devoted to the transmission of the Mahayana Buddhist tradition and values worldwide through teaching, meditation and community service.
more...
About Buddhism
If you're new to Buddhism, please read our
Buddhism FAQ
. A place to learn about Buddhism in general, FPMT, and our Discovering Buddhism at Home series.