By Lama Zopa Rinpoche
To love oneself is not contradictory to what Mahayana Buddhism teaches. The Mahayana teachings are not saying one should not love oneself. Renouncing oneself and cherishing others is not contradictory to loving yourself. In fact, practicing the Mahayana teaching, bodhichitta, is the best way to love yourself, to take care of yourself. 
Whatever we do with our body, speech, and mind is for happiness. Even the activities of the tiniest insects, like the ants we see running around and keeping so busy, are also to achieve happiness. By looking at ourselves and at other living beings, we can see that it is the same: whatever we do is to achieve happiness. 

A "problem" is what we do not want to experience and "happiness" is what we want to achieve. With this mind we can stop the problems, stop all the undesirable experiences, and with this mind we can achieve every happiness. Why is this? Because problems and happiness do not come from outside. The creator of problems and happiness is oneself in past lives. Therefore, with this mind all our problems can be stopped and we can achieve temporal day-to-day happiness and ultimate happiness, full enlightenment. …
From Mandala April-May 2006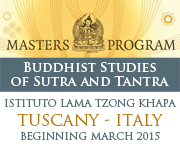 Our grabbing ego made this body manifest, come out. However, instead of looking at it negatively, we should regard it as precious. We know that our body is complicated, but from the Dharma point of view, instead of putting ourselves down with self-pity, we should appreciate and take advantage of it. We should use it in a good way.
Lama Thubten Yeshe
Contact Info
1632 SE 11th Avenue
Portland, OR 97214-4702 USA
Tel (503) 808-1588 | Fax (503) 232-0557
About FPMT
FPMT is an organization devoted to the transmission of the Mahayana Buddhist tradition and values worldwide through teaching, meditation and community service.
more...
About Buddhism
If you're new to Buddhism, please read our
Buddhism FAQ
. A place to learn about Buddhism in general, FPMT, and our Discovering Buddhism at Home series.