"There is great loving kindness in the heart of the Buddha for us, from time without beginning, as the continuity of our life is beginningless. So, until full enlightenment is achieved, the Buddha has loving kindness for us," Lama Zopa Rinpoche explained in a 2005 message thanking all the Dharma centers for making prayers to benefit the Maitreya Project.
"Maitreya Buddha is the embodiment of each buddha's loving kindness, and the symbol of all the bodhisattvas' loving kindness for all sentient beings.
"Peace experienced throughout the entire universe, global peace, national peace, and each individual's peace comes from the good heart, loving kindness. Maitreya Buddha is a symbol of this."
You can read Rinpoche's complete message in "Maitreya Project: Thanks for Prayers and Donations" on the Lama Yeshe Wisdom Archive.
The Maitreya Project is an FPMT project to build a very large statue of Maitreya Buddha in India. To learn about recent developments in Kushinagar, see Lama Zopa Rinpoche's speech given at the Maitreya Project foundation stone laying ceremony and read Ven. Thubten Labdron's report and Ven. Gyalten Samten's reflections on the event. 
Lama Zopa Rinpoche is the spiritual director of the Foundation for the Preservation of Mahayana Tradition (FPMT), an organization dedicated to preserving Mahayana Buddhism through offering the Buddha's authentic teachings and to facilitating reflection, meditation, practice and the opportunity to actualize and directly experience the Buddha's teachings. Sign up to receive news and updates.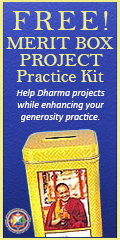 Faith alone never stops problems; understanding knowledge-wisdom always does. Lord Buddha himself said that belief in Buddha was dangerous; that instead of just believing in something, people should use their minds to try to discover their own true nature.
Lama Zopa Rinpoche
Contact Info
1632 SE 11th Avenue
Portland, OR 97214-4702 USA
Tel (503) 808-1588 | Fax (503) 232-0557
About FPMT
FPMT is an organization devoted to the transmission of the Mahayana Buddhist tradition and values worldwide through teaching, meditation and community service.
more...
About Buddhism
If you're new to Buddhism, please read our
Buddhism FAQ
. A place to learn about Buddhism in general, FPMT, and our Discovering Buddhism at Home series.