Scholar and chief translator for His Holiness the Dalai Lama, Geshe Thupten Jinpa, continues his discussion of the Tibetan tradition of mind training, which forms the basis of his important book Mind Training: The Great Collection.
One of the key themes of mind training [lo-jong] practices is a radical re-orientation of our personality, attitudes, and thoughts. The idea is that we can re-orient our very being, so that we can shift from our habitual self-centeredness to other-centeredness.
Mind training begins with an emphasis on cultivating a completely new way of relating to other beings. As Geshe Langri Tangpa (1054-1123) says in his Eight Verses for Training the Mind, "May I be able to perceive all others as true friends, as precious as a wish-granting jewel." So when we see others, we try to see them as a source of our well-being. We see them with a perspective of gratitude, and we recognize that for our own happiness, for our own well-being, the presence of others is indispensable.
Mind training practice (lo-jong) is a down-to-earth, practical approach. Because Buddhism is as much a philosophy as it is a religion, sophisticated philosophizing sometimes arises. Lo-jong is quite suspicious of this tendency, and sometimes deliberately eschews or rejects any form of systematization. So this mind training approach is a way of practicing whatever is most appropriate at any given moment, emphasizing that which is most relevant to your current situation.
From Manadala February-March 2008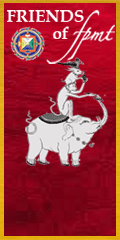 I hope that you understand what the word 'spiritual' really means. It means to search for – to investigate – the true nature of the mind. There's nothing spiritual outside. My rosary isn't spiritual; my robes aren't spiritual. Spiritual means the mind and spiritual people are those who seek its nature.
Lama Thubten Yeshe
Contact Info
1632 SE 11th Avenue
Portland, OR 97214-4702 USA
Tel (503) 808-1588 | Fax (503) 232-0557
About FPMT
FPMT is an organization devoted to the transmission of the Mahayana Buddhist tradition and values worldwide through teaching, meditation and community service.
more...
About Buddhism
If you're new to Buddhism, please read our
Buddhism FAQ
. A place to learn about Buddhism in general, FPMT, and our Discovering Buddhism at Home series.