"I thought that it would be important especially for Western people who had become Buddhist to remember the great kindness they had received from His Holiness the Dalai Lama, Padmasambhava, the Dharma Kings, Shantarakshita and the Tibetan people as a whole," Lama Zopa Rinpoche said, explaining his motivation for composing the prayer "Remembering the Kindness of His Holiness the Dalai Lama and the Tibetan People." Rinpoche wrote the short prayer in Australia in June 2011, while recovering from manifesting a stroke. Rinpoche has advised that the prayer be recited following the "Prayer that Spontaneously Fulfills All Wishes" (Tong nyi nying je …) at the end of dedication prayers.
"While thinking how important it is, in addition to providing whatever help to Tibet that they can give, for these Westerners to at least direct their thoughts and wishes to the welfare of the Tibetan people, this prayer came to my mind," Rinpoche said. "I composed it especially for the success of His Holiness the Dalai Lama's wishes, and in particular for the Tibetan people, and for there to be perfect peace and happiness in the world and for all sentient beings to achieve enlightenment."
The prayer concludes:
"Our Refuge and Savior, the Supreme One: His Holiness the Dalai Lama
And the Tibetan people have been so kind to us!
Remembering this we make the following dedicating prayers:
May all His Holiness the Dalai Lama's wishes be successful immediately;
May the Snow Land of Tibet achieve pure freedom
And develop the Buddha Dharma even more than before in Tibet;
And may all mother transmigratory beings achieve enlightenment quickly!"
You can find this prayer and others in the booklet "Prayers for His Holiness the Dalai Lama and Tibet."

For more detailed news on His Holiness' activities, visit His Holiness' website at DalaiLama.com. You can also read Mandala's coverage of His Holiness.
More information, photos and updates about FPMT spiritual director Lama Zopa Rinpoche can be found on Rinpoche's homepage. If you'd like to receive news of Lama Zopa Rinpoche via email, sign up to Lama Zopa Rinpoche News.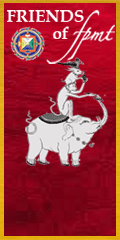 Our problem is that inside us there's a mind going, 'Impossible, impossible, impossible. I can't, I can't, I can't.' We have to banish that mind from this solar system. Anything is possible; everything is possible. Sometimes you feel that your dreams are impossible, but they're not. Human beings have great potential; they can do anything. The power of the mind is incredible, limitless.
Manjushri Institute, 1977, Currently unpublished
Lama Yeshe Wisdom Archive
Lama Thubten Yeshe
Contact Info
1632 SE 11th Avenue
Portland, OR 97214-4702 USA
Tel (503) 808-1588 | Fax (503) 232-0557
About FPMT
FPMT is an organization devoted to the transmission of the Mahayana Buddhist tradition and values worldwide through teaching, meditation and community service.
more...
About Buddhism
If you're new to Buddhism, please read our
Buddhism FAQ
. A place to learn about Buddhism in general, FPMT, and our Discovering Buddhism at Home series.