Many Buddhist practitioners have encountered feelings of loneliness. According to Lama Zopa Rinpoche's Online Advice Book, Rinpoche once heard a monk comment that he felt people didn't want to be with him and were avoiding him. Rinpoche offered this advice:
That is no problem at all. It is good, because you waste so much of your time if people are interested in meeting you. Then, no meditation, no study, nothing, just blah, blah, blah, blah. That is why Milarepa achieved enlightenment in a brief lifetime during degenerate times. Why did he go to meditate in very high mountains? That is the whole point. He did it in order not to waste his life. … Buddha said that as long as one follows desire, one will never get satisfaction. Satisfaction, here, means peace of mind, but in a broader way it also means to understand that as long as one follows desire, there is no liberation and no enlightenment.
You can read the complete advice Rinpoche offered this monk at "Lama Zopa Rinpoche's Online Advice Book" on the Lama Yeshe Wisdom Archive website.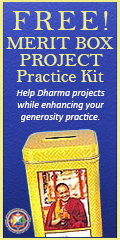 I encourage people not to express their anger, not to let it out. Instead, I have people try to understand why they get angry, what causes it and how it arises. When you realize these things, instead of manifesting externally, your anger digests itself. In the West, some people believe that you get rid of your anger by expressing it, that you finish it by letting it out. Actually, in this case what happens is that you leave an imprint in your mind to get angry again.
Lama Thubten Yeshe
Contact Info
1632 SE 11th Avenue
Portland, OR 97214-4702 USA
Tel (503) 808-1588 | Fax (503) 232-0557
About FPMT
FPMT is an organization devoted to the transmission of the Mahayana Buddhist tradition and values worldwide through teaching, meditation and community service.
more...
About Buddhism
If you're new to Buddhism, please read our
Buddhism FAQ
. A place to learn about Buddhism in general, FPMT, and our Discovering Buddhism at Home series.