In Ultimate Healing, published by Wisdom Publications, Lama Zopa Rinpoche, spiritual director of the Foundation for the Preservation of the Mahayana Tradition (FPMT) suggests the cure for not only depression, but all forms of illness and disease: unqualified love in the form of compassion for all living beings – including oneself. Written with humility and kindness, Ultimate Healing is rich in wisdom and practical help for those in pain.
"Depression can be the result of a specific situation, in which case you can apply the relevant meditation to deal with those conditions; however, depression and feelings of hopelessness can also arise for no particular reason. When you are experiencing depression, you should prepare yourself each morning by making a strong determination not to allow the situation to upset you. [This] strengthens you and gives you courage. Also make a strong determination to transform your depression into happiness. During the day, when you start to feel depressed or upset, you should immediately remember the determination you made in the morning and not let the situation overwhelm you. No matter how bad the situation seems, and even if it is commonly regarded as a serious problem, you should not allow it to make your life dark and depressed.
"After making this determination, you then mentally prepare yourself for the day by thinking of the methods you will use when you start to feel depressed or upset. There are various special techniques for fighting depression …"
From Mandala March-May 2002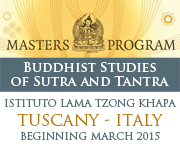 I hope that you understand what the word 'spiritual' really means. It means to search for – to investigate – the true nature of the mind. There's nothing spiritual outside. My rosary isn't spiritual; my robes aren't spiritual. Spiritual means the mind and spiritual people are those who seek its nature.
Lama Thubten Yeshe
Contact Info
1632 SE 11th Avenue
Portland, OR 97214-4702 USA
Tel (503) 808-1588 | Fax (503) 232-0557
About FPMT
FPMT is an organization devoted to the transmission of the Mahayana Buddhist tradition and values worldwide through teaching, meditation and community service.
more...
About Buddhism
If you're new to Buddhism, please read our
Buddhism FAQ
. A place to learn about Buddhism in general, FPMT, and our Discovering Buddhism at Home series.