"After waking up in the morning, the first thing to do is to feel happy that you haven't died yet," Lama Zopa Rinpoche taught at Osel Shen Phen Ling, an FPMT center in Missoula, Montana, US, on August 31, 1997. This teaching, given prior to a White Tara initiation, has recently been posted on the Lama Yeshe Wisdom Archive. "'Even last night, many people in this world died. This morning, they are no longer human beings with the opportunity to practice Dharma. So far, I haven't died. I didn't die last night. This is a miracle! Life is full of so many obstacles – the inner obstacles of afflictive thoughts – the 84,000 delusions that shorten our lifespan and cause death – and the external obstacles of many sicknesses and dangers. I'm so fortunate to still have this opportunity to practice Dharma.'
"The meaning and purpose of your life is to be useful and bring happiness to other beings. We have this responsibility. Why do we have this universal responsibility for the happiness of all living beings? Because if we have compassion, then we won't harm sentient beings and they will only feel peace and happiness in our presence. It all depends on what we do with our mind. If we don't have compassion then we are only concerned about ourselves and our own happiness, due to thoughts of self-cherishing, anger, and other negative emotions that cause us to harm other living beings, directly or indirectly, from life to life. Therefore, we have full responsibility for the happiness of all beings. (Include people in your family, people who you work with, friends, enemies, and then all sentient beings. Feel this purpose of your life and your universal responsibility first thing in the morning before doing anything else. This is very important.)
"Think to yourself, 'I have a perfect human body; I've met my guru who guides me on the path to enlightenment; and I've met the Buddhadharma, which explains the path and methods, the causes of happiness and of suffering, what is liberation and what is samsara, what is real happiness and peace and what is illusory happiness. I'm extremely fortunate!' Rejoice – feel very happy and appreciative. Then think, 'Therefore, I'm going to practice sutra and tantra as much as possible on the basis of correct guru devotion.'…"
Visit the Lama Yeshe Wisdom Archive to read the entire teaching "The Meaning and Purpose of Life," which covers reasons for taking White Tara initiation, universal responsibility and advice on making life most beneficial.
More information, photos and updates about FPMT spiritual director Lama Zopa Rinpoche can be found on Rinpoche's homepage. If you'd like to receive news of Lama Zopa Rinpoche via email, sign up to Lama Zopa Rinpoche News.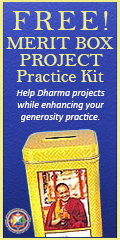 When others insult, rebuke and speak unpleasant words to us, although an intolerable pain arises like a thorn at the heart, if we comprehend the teachings then we can recognize the essenceless nature of these words which resemble an echo. So just as when an inanimate object is scolded, we will experience not the slightest mental turmoil.
His Holiness the Dalai Lama
Contact Info
1632 SE 11th Avenue
Portland, OR 97214-4702 USA
Tel (503) 808-1588 | Fax (503) 232-0557
About FPMT
FPMT is an organization devoted to the transmission of the Mahayana Buddhist tradition and values worldwide through teaching, meditation and community service.
more...
About Buddhism
If you're new to Buddhism, please read our
Buddhism FAQ
. A place to learn about Buddhism in general, FPMT, and our Discovering Buddhism at Home series.