Lama Zopa Rinpoche's older sister Ani Ngawang Samten visited with Rinpoche after his return to Kopan Monastery in November. Ani Samten came down to Kathmandu from Lawudo Retreat Centre, in the mountainous Solu Kumbu region of Nepal.  Ven. Roger Kunsang, Rinpoche's assistant, described Ani Samten as "the 'mother' of Lawudo. [She] looks after everything … except the recent building work which Rinpoche's brother Sangay Sherpa does as the director."
Lawudo is where Lama Zopa Rinpoche's previous incarnation meditated. Ani Samten was key to the development and buidling of Lawudo Gompa and has taken care of the students, teachers and retreaters who have visited Lawudo since the early days of FPMT. Read more about her amazing contributions and work in the Mandala January-February 1998 article, "The Keeper of Lawudo." 
Learn more about FPMT spiritual director Lama Zopa Rinpoche and his beneficial activities by visiting Rinpoche's homepage, where you will find links to Rinpoche's schedule, new advice, recent video, photos and more.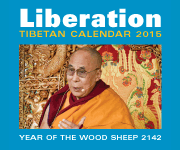 You can see from your own life experiences how the environment can affect you. When you're among peaceful, generous, happy people, you're inclined to feel happy and peaceful yourself. When you're among angry, aggressive people, you tend to become like them. The human mind is like a mirror. Therefore, it is very important to be conscious of your surroundings and how they affect your mind.
Lama Thubten Yeshe
Contact Info
1632 SE 11th Avenue
Portland, OR 97214-4702 USA
Tel (503) 808-1588 | Fax (503) 232-0557
About FPMT
FPMT is an organization devoted to the transmission of the Mahayana Buddhist tradition and values worldwide through teaching, meditation and community service.
more...
About Buddhism
If you're new to Buddhism, please read our
Buddhism FAQ
. A place to learn about Buddhism in general, FPMT, and our Discovering Buddhism at Home series.