"On my last day of work in Australia, before flying to Nepal to become ordained, in accordance with hospital tradition I went to the local pub with my fellow doctors for a farewell drink," remembered Thubten Gyatso in the March-May 2003 issue of Mandala. "There I was, the prospective Buddhist monk, sitting at a table with a cigar in my mouth, a jug of beer in front of me, and my arms around two young lady doctors. Echoing my own doubts about whether it was possible to live the rest of my life alone, one of them asked, 'But won't you miss the cuddles?'
"'I don't know,' I replied, 'but I think it's worth trying.'
"Loneliness was no stranger to me. A few years earlier, I had left my love in Australia and gone to England for post-graduate study in medicine, and, let's face it, for adventure. I found it all: adventure, friends, interesting work and study, but when her letters arrived and memories invaded my mind, swinging London became the loneliest place in the world. I yearned for her to be with me and share my happiness. …"
From Mandala March-May 2003
Mandala brings you news of Lama Zopa Rinpoche and of activities, teachings and events from over 160 FPMT centers, projects and services around the globe. If you like what you read on Mandala, consider becoming a Friend of FPMT, which supports our work.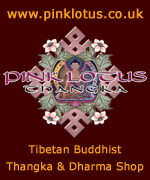 If twenty-four hours a day, everything you do is motivated by bodhichitta, you accumulate infinite merit. Moreover, every single action becomes a cause not only for your own enlightenment, but also the happiness of every other sentient being.
Lama Zopa Rinpoche
Contact Info
1632 SE 11th Avenue
Portland, OR 97214-4702 USA
Tel (503) 808-1588 | Fax (503) 232-0557
About FPMT
FPMT is an organization devoted to the transmission of the Mahayana Buddhist tradition and values worldwide through teaching, meditation and community service.
more...
About Buddhism
If you're new to Buddhism, please read our
Buddhism FAQ
. A place to learn about Buddhism in general, FPMT, and our Discovering Buddhism at Home series.