'Everybody Needs Universal Compassion and Wisdom Education': An Interview with Lama Zopa Rinpoche on UECW
EDUCATION
July-September 2012
In December 2011, Lama Zopa Rinpoche gave an interview to Universal Education for Compassion and Wisdom (UECW) at Root Institute in Bodhgaya, India. Matteo Passigato filmed the 90-minute interview. Lama Zopa Rinpoche gives advice on the elements of UECW's name and vision.
Universal Education for Compassion and Wisdom is an FPMT program of secular education for people of all ages and cultures. Until recently, UECW was called Universal Wisdom Education (UWE) and before that it was known as Essential Education (EE) as well as Universal Education (UE). The Foundation for Developing Compassion and Wisdom (FDCW) is the FPMT international project that oversees UECW.
You can read an unedited transcript of the interview on a separate page.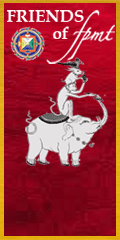 Don't forget that the starving person preoccupied by hunger and the person obsessing over what to buy next at the supermarket are basically the same. Mentally, rich and poor are equally disturbed, and, fundamentally, one is as unhappy as the other.
Lama Thubten Yeshe
Contact Info
1632 SE 11th Avenue
Portland, OR 97214-4702 USA
Tel (503) 808-1588 | Fax (503) 232-0557
About FPMT
FPMT is an organization devoted to the transmission of the Mahayana Buddhist tradition and values worldwide through teaching, meditation and community service.
more...
About Buddhism
If you're new to Buddhism, please read our
Buddhism FAQ
. A place to learn about Buddhism in general, FPMT, and our Discovering Buddhism at Home series.