December 2001 – February 2002
Joe Schoolcraft has a caseload under which some therapists would
crumple and cry 'uncle', according to one grateful client. Joe's skill and empathy came the hard way: drugs, alcohol, a gun to his own head in despair. An understanding boss got him into a residential substance abuse treatment program. He's been repaying the kindness ever since.
I've always been a helper. A few years ago I found an old report card of mine from kindergarten. The teacher's comment was "Joe loves to help others." For a number of years after I dropped out of college in the early 1970s I floated from job to job and place to place depending on where my alcoholism, addictions and search for happiness took me. But most of the work I've done throughout my adult life has been in the helping professions. I worked in state hospitals and residential facilities for emotionally disturbed
and delinquent children and adolescents, as well as facilities for mentally ill adults. There was considerable alcohol use by my father and older siblings in our working class family. The usual unwritten, unspoken rules in my family were, "Don't talk! Don't trust! Don't feel!"…
Read the complete article as a PDF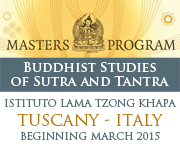 In my mind, one of the beauties of Buddhism is that it offers us a practical training for our mind. It does not say, 'Bodhicitta is fantastic because Buddha said so!' Instead, it gives us the methods for developing such an attitude and we can then see for ourselves whether it works or not, whether it is fantastic or not.
Lama Thubten Yeshe
Contact Info
1632 SE 11th Avenue
Portland, OR 97214-4702 USA
Tel (503) 808-1588 | Fax (503) 232-0557
About FPMT
FPMT is an organization devoted to the transmission of the Mahayana Buddhist tradition and values worldwide through teaching, meditation and community service.
more...
About Buddhism
If you're new to Buddhism, please read our
Buddhism FAQ
. A place to learn about Buddhism in general, FPMT, and our Discovering Buddhism at Home series.