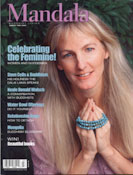 March/May 2003
SOCIETY
Celebrating the Feminine in Buddhism:
Buddhist Women in the West by Judith Simmer-Brown
Buddhist Women in the East by Martine Batchelor
The Attendant Who Pledged Her Life – Jacquelyn Keeley
The Daughter Who Can Be Anything – Felicity Noel Keeley
The Mother of an Awakening Being – Shasta Wallace
The Girlfriend with a Lama – Kendall Magnussen
A Teacher of Feminine Bliss – Lama Dechen Yeshe Wangmo
The Inner Activist – Arinna Weisman
The Working Woman – Bikshuni Tenzin Choesang
The Dharmic Politician – Rinchen Khando Choegyal
Spiritual Women Aim to Heal the World
A Celebration of Buddhist Goddesses
FEATURES
Interfaith: Finding Larger Truths for Peace
A Conversation with Neale Donald Walsch, author of the "Conversations with God" series
Buddhist World
The Face of Buddha in Mongolia by Ven. Thubten Gyatso
Pilgrimage
Romancing a River by Mira Maddrell
Columns
Emotional Release
Turning Rage to Love by Geri Larkin
Managing Emotions
When Loneliness Is Your Closest Friend by Ven. Thubten Gyatso
Communication
Speaking to Create Harmony by Bhikshuni Thubten Chodron
Right Livelihood
Health
Giving Birth to a Healthy Life
Ordained Life
Departments
From the Publisher
Possibilities for Contemporary Buddhist Living
Ask a Lama
You are not a Buddhist Missionary
A Simple Monk
Scientific perspectives from his Holiness the Dalai Lama
Teachings
Taming Your Wild Elephant-like Mind by Lama Tsongkhapa
Readers Survey
Speak your mind- and win great prizes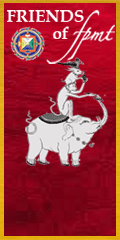 It's the foggy mind, the mind that's attracted to an object and paints a distorted projection onto it, that makes you suffer. That's all. It's really quite simple.
Lama Thubten Yeshe
Contact Info
1632 SE 11th Avenue
Portland, OR 97214-4702 USA
Tel (503) 808-1588 | Fax (503) 232-0557
About FPMT
FPMT is an organization devoted to the transmission of the Mahayana Buddhist tradition and values worldwide through teaching, meditation and community service.
more...
About Buddhism
If you're new to Buddhism, please read our
Buddhism FAQ
. A place to learn about Buddhism in general, FPMT, and our Discovering Buddhism at Home series.