Dharma in Daily Life
By Ribur Rinpoche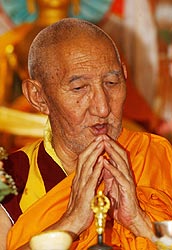 If you take into account twenty-four hours of the day, sometimes almost half is spent resting and sleeping. Out of the remainder, if you check what goes into Dharma practice, the time that has really become Dharma practice, except for a few instances of virtuous mind that may arise, very little is spent on practice. So much time goes into gossiping, into just talking nonsense; there is lots of non-virtuous speech, lots of hanging around, lots of resting, lots of sleeping. If you check the twenty-four hours you have available each day, not much time is spent practicing Dharma. Therefore, it becomes indispensable to have a method to transform these twenty-four hours so they become as much as possible Dharma practice.

First let's begin with the moment you wake up. As soon as you open your eyes, just before doing anything, that is the moment when you generate a strong intention. Intention is a very powerful mental factor, so you should think, "This morning I am still alive. It is like a miracle that I didn't die last night. It is due to the kindness of the Three Jewels. Therefore, as much time as is left of my life, this coming year, this month, this very day, I'm not going to waste a single moment." You should generate this intention as soon as you open your eyes. Bring it about again and again in your mind. Motivate very strongly: "I'm not going to waste my time." Make a strong intention, a strong decision that "whatever is left of my life, especially today, I'm not going to waste it. I'm going to practice as much as I can." Think this again and again.

Then once you are out of bed, if you take a shower, then not only think you are washing your exterior, but also visualize that you are purifying and cleaning your mind of delusions. Use your time to think that you are not just washing the body. It would be very good if while you shower or wash, you visualize cleaning away the delusions and recite the mantra of OM HANA HANA HUM PHAT (pronounced om hana hana hoom pay).


This article is an excerpt of the full article printed in Mandala.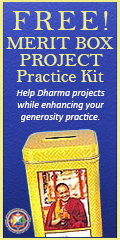 If you listen to the advice of the Buddha – who has only compassion for sentient beings and no trace of self-centred mind; who is perfect in power, wisdom and compassion; whose holy mind is omniscient – all you get is benefit.
Lama Zopa Rinpoche
Contact Info
1632 SE 11th Avenue
Portland, OR 97214-4702 USA
Tel (503) 808-1588 | Fax (503) 232-0557
About FPMT
FPMT is an organization devoted to the transmission of the Mahayana Buddhist tradition and values worldwide through teaching, meditation and community service.
more...
About Buddhism
If you're new to Buddhism, please read our
Buddhism FAQ
. A place to learn about Buddhism in general, FPMT, and our Discovering Buddhism at Home series.