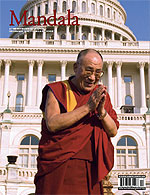 MAHAYANA EXPLAINED: The Great Vehicle
By His Holiness the Dalai Lama
THE MIND
Lojong: Mind Training, the Tibetan Tradition of Mental and Emotional Cultivation. Part 1
By Geshe Thupten Jinpa
By Ven. Tenzin Chonyi (Dr Diana Taylor)
TEACHING: Getting Depressed by Emptiness
By Lama Zopa Rinpoche
ON FAITH: Each Faith Enhances the Other
By Jan Willis
A PERSONAL STORY
Strangers on a Train
By Ven. Yeshi Dorjee
A Letter to Someone As Yet Unmet
By Janine Nieper
INTERVIEW: Disappointment and Delight: The Eight Worldly Concerns
Bikshuni Thubten Chodron talks to Sara Blumenthal
A VAJRA BROTHER: Emergency Buddhism
By Dr. Brett Sutton
PERSPECTIVE: Living Life Beyond Work: Spirituality and the 'New Adult'
By William Roiter
OPINION: The Human Mind in an Age of Decay
By Donovan Roebert
SANGHA
Recognizing and Supporting the Sangha Community
Introducing Ven. Losang Monlam
Tibetan Monastic Robes
By Geshe Lhundrup Sopa
COVER STORY
Dalai Lama Receives Highest Honor from the US
By Betty Rogers. Photos by Don Farber
GOMPAS:
Glorious Building Challenges
By Drolkar McCallum
A Vision of Lawudo for the 21st Century
By Frank Brock
GENEROSITY
By Tony Steel
Our Relationship to Resources & Generosity Advice
By Lama Zopa Rinpoche
By Lama Zopa Rinpoche
PRESERVING TIBETAN: More about Suffixes
By Lama David Curtis
BEGINNINGS: Sojourn in Spain
By Adele Hulse
LETTER FROM BODHGAYA: Nurturing Baby Bodhisattvas to Stop the Rot
By Ven. Kabir Saxena
FROM THE EDITOR'S DESK
NEWS
OBITUARIES [Lim Chwee Hong, Judith Munk, Maureen Rodriguez]
MEDIA
RESOURCE DIRECTORY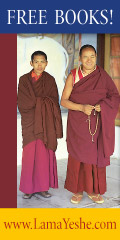 We should train ourselves not to become engrossed in any of the thoughts continuously arising in our mind. Our consciousness is like a vast ocean with plenty of space for thoughts and emotions to swim about and we should not allow our attention to be distracted by any of them.
Lama Thubten Yeshe
Contact Info
1632 SE 11th Avenue
Portland, OR 97214-4702 USA
Tel (503) 808-1588 | Fax (503) 232-0557
About FPMT
FPMT is an organization devoted to the transmission of the Mahayana Buddhist tradition and values worldwide through teaching, meditation and community service.
more...
About Buddhism
If you're new to Buddhism, please read our
Buddhism FAQ
. A place to learn about Buddhism in general, FPMT, and our Discovering Buddhism at Home series.