HIGHLIGHTS FROM THE CURRENT PRINT ISSUE

Like Nectar on Flowers: The Selfless Service of FPMT-Registered Teachers
The Essential Qualities of Guru and Disciple

By Lama Zopa Rinpoche
When Not to View the Guru as Perfect

By His Holiness the Dalai Lama
The Moment I Became Vegetarian

By Renee Robinson
Exclusive Online Articles
COVER FEATURE
Like Nectar on Flowers: The Selfless Service of FPMT-Registered Teachers (History Section)
Like Nectar on Flowers: The Selfless Service of FPMT-Registered Teachers (Geshe Section)
The Ever-Changing Forms of Buddhism
By James Blumenthal
LAMA YESHE'S WISDOM
Dying is Better Than This Flower
By Lama Yeshe
BIG LOVE DAY: A Day of Celebration and Rejoicing
FPMT TEACHERS
Meeting Ven. Amy Miller
By Katya Yakubov and Daniel Hess
An Interview with Khensur Jampa Tegchok
WORLDVIEW
STILL COOKING
By Kendall Magnussen
ANIMAL LIBERATION
The 'Roo from Black Saturday
By Tania Hunt
SOCIAL SERVICE IN BODHGAYA
MAITRI – Where Every Individual Matters
By Phil Hunt
Welcome to Root Institute!
By Ven. Gyalten Mindrol
Tara Children's Project
By Dorjee Norbu
FEATURED MEDIA
FPMT TEACHER TRIVIA ANSWER KEY
NEW FEATURES ON OUR WEBSITE!
On the Road with Lama Zopa Rinpoche Ven. Roger Kunsang's blog about life on the road with Lama Zopa Rinpoche
REJOICE! A section for sharing the inspiring practice accomplishments of the FPMT community
Dharma Realities Ven. Chönyi Taylor's blog (previously Mixed Motives column)
Generation Why? An area for young and young-hearted FPMT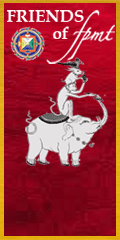 Your up and down emotions are like clouds in the sky; beyond them, the real, basic human nature is clear and pure.
Lama Thubten Yeshe
Contact Info
1632 SE 11th Avenue
Portland, OR 97214-4702 USA
Tel (503) 808-1588 | Fax (503) 232-0557
About FPMT
FPMT is an organization devoted to the transmission of the Mahayana Buddhist tradition and values worldwide through teaching, meditation and community service.
more...
About Buddhism
If you're new to Buddhism, please read our
Buddhism FAQ
. A place to learn about Buddhism in general, FPMT, and our Discovering Buddhism at Home series.