Protection from Radiation
July-September 2011
PRACTICING DHARMA IN DAILY LIFE
One serious result of the tsunami that hit Japan in March was the damage to several nuclear reactors. Lama Zopa Rinpoche gave a list of advice for those concerned about the effects of radiation:
Wear protections of White Umbrella Deity and Lion Faced Dakini. (These need to be made correctly and blessed.)
Wear White Umbrella Deity text (This text can be reduced in size and worn respectfully on the body, such as in a small pouch around your neck. It could also be put on microfilm and worn like an amulet. If the text is reduced, the letters should still be clear.)
Take the initiation of White Umbrella Deity.
White Umbrella Deity practice. (Note: Without empowerment, one cannot do self-generation, but instead can visualize deity in front of oneself.)
A4 Version
Letter Version
E-Reader Version
Sadhana ombrelle blanche en français.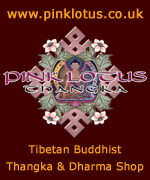 May there be no war, disease or natural disaster such as fire, flood, earthquake and so forth. May everybody realize bodhichitta, the good heart, enjoy peace and happiness and as quickly as possible realize the wisdom directly perceiving emptiness, cease all their defilements and achieve enlightenment.
Lama Zopa Rinpoche
Contact Info
1632 SE 11th Avenue
Portland, OR 97214-4702 USA
Tel (503) 808-1588 | Fax (503) 232-0557
About FPMT
FPMT is an organization devoted to the transmission of the Mahayana Buddhist tradition and values worldwide through teaching, meditation and community service.
more...
About Buddhism
If you're new to Buddhism, please read our
Buddhism FAQ
. A place to learn about Buddhism in general, FPMT, and our Discovering Buddhism at Home series.