'Subduing the Mind, Actualizing the Path' Resource Area
Mandala's collection of interviews, advice and archive stories on retreat:
From Mandala April-June 2012, available online
Subduing the Mind, Actualizing the Path
Random Reflections on Retreating
By Bev Gwyn
Big Ears, Small Mouths: The Life of a Retreat Caretaker
By Ben Waite
Thubten Gyatso (Adrian Feldmann) on retreat 
More on retreat from the Mandala archive
Jumping off the Cliff in the Footsteps of Naropa
From Mandala March-April 1996
Ven. Robina Courtin interviews Paula Chichester (Ven. Lhundup Nyingje) and Roger Munro after they completed their first great retreat (four years) at Milarepa Center in Vermont, USA.
From Mandala September-October 1996
Ven. René Feusi talks to Ven. Robina Courtin about his two-and-a half year retreat at O.Sel.Ling Centro de Retiros in the Sierra Nevada Mountains of Spain.
Transforming Hardships into Realizations
From Mandala January-February 1998
Julia Hengst talks to Paula Chichester (Ven. Lhundup Nyingje) and Roger Munro about the difficulties they experienced during their first long retreat at Milarepa Center in Vermont, USA, and what they anticipate in their next long retreat.
Retreat Lung: The Meditator's Disease
From Mandala August-September 2004
Ven. Lhundup Nyingje (Paula Chichester) writes about retreat lung and offers advice on how to work with it.
From Mandala December 2003-January 2004
Fabrizio Pallotti talks to Kirti Tsenshab Rinpoche about how long retreats fit into the Gelug tradition.
From Mandala February-March 2004
Thubten Gyatso (Adrian Feldmann) discusses the preparations he's making for a three-year retreat.
From Mandala August-September 2005
Four meditators discuss their retreats at Land of Calm Abiding in California, USA.
Stepping into the Abyss: Experiences on Retreat
From Mandala August-September 2006
Graduates of the FPMT Masters Program at Istituto Lama Tzong Khapa reflect on their experiences doing a nine-month retreat.
Flexible Retreats: How to Retreat from our Own Delusions
From Mandala April-May 2008
Lorne Ladner writes about understanding the meaning of retreat and developing ways to be flexible with retreat, including integrating aspects of retreat into our daily lives.
From Mandala January-March 2009
Julia Hengst talks with Ven. Paula Chichester (Ven. Lhundup Nyingje) and Ven. Roger Munro about their second long retreat – a Yamantaka retreat – which they completed in 2005.
Inner Peace and Happiness during Three-Year Retreat
From Mandala July-September 2009
Owen Cole interviews Thubten Gyatso (Adrian Feldmann) after his three-year retreat at De-Tong Ling Retreat Centre on Kangaroo Island off the coast of South Australia.
No Desire but Plenty of Bliss and Void
From Mandala July- September 2009
Julia Hengst interviews Ven. Paula Chichester and Ven. Roger Munro after their extensive Chöd retreat in the Scottish Highlands.
From Mandala October-December 2010
Elaine Jackson reflects on her more than five years of experience serving as director of Vajrapani Institute, an FPMT retreat center in Boulder Creek, California, USA.
More articles and posts from Mandala tagged "retreat"
From FPMT Education Services, retreat advice available through the Foundation Store


Lama Zopa Rinpoche's Online Advice Book has several examples of essential advice from Rinpoche regarding many aspects of practice, including a page dedicated to Retreat Advice.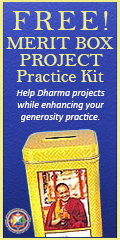 When others insult, rebuke and speak unpleasant words to us, although an intolerable pain arises like a thorn at the heart, if we comprehend the teachings then we can recognize the essenceless nature of these words which resemble an echo. So just as when an inanimate object is scolded, we will experience not the slightest mental turmoil.
His Holiness the Dalai Lama
Contact Info
1632 SE 11th Avenue
Portland, OR 97214-4702 USA
Tel (503) 808-1588 | Fax (503) 232-0557
About FPMT
FPMT is an organization devoted to the transmission of the Mahayana Buddhist tradition and values worldwide through teaching, meditation and community service.
more...
About Buddhism
If you're new to Buddhism, please read our
Buddhism FAQ
. A place to learn about Buddhism in general, FPMT, and our Discovering Buddhism at Home series.