FPMT News Around the World
 
By Pam Cayton
Some years ago, Lama Zopa Rinpoche requested me to help get a Namgyälma mantra board made that could be used to bless the oceans and waters of the world. With the great mastery of Peter Griffin, a sculptor in the UK, we produced the first large, 3-by-4-foot (0.9-by-1.2-meter) mantra board. While in California, Rinpoche has since taken it out several times to Monterey Bay and blessed the Pacific Ocean and all the beings that live in the ocean or touch the ocean. I figure, because the water evaporates and moves around the world, we have possibly all been blessed by the mantra already.

Immediately after the inaugural launch of the board, Rinpoche requested a much larger board. Now, five years and several design changes, mantra corrections and much trial and error later, we've created a prototype of a magnificent mantra board for Rinpoche! The 5-by-7-foot (1.5-by-2.1-meter) board (pictured above) is made from resin and fiberglass cast from a mold. The three Long Life Deities, which are not yet complete, will be mounted in the three small frames you see along the top. 

In order to create the mold for the mantra board, a wooden board was carved with the mantra and then Peter sculpted an elegantly decorated frame, which includes the eight auspicious symbols and the yet-to-be-completed three Long Life Deities scupltures. Peter is a highly accomplished Western Dharma artist and sculptor who has created many holy objects for FPMT centers and has been interviewed in Mandala.  
The creation of the large mantra board will be a magnificent accomplishment once it is done, however, the process has been more expensive than we first expected. The amount needed to make and complete the final cast is £7,804 (US$12,420). We are currently raising funds to finish the project.
We hope to offer the mantra board to Lama Zopa Rinpoche on his return to California in the New Year with a special dedication from all the contributors for Rinpoche to live a long and healthy life and remain until all suffering beings are released from samsara. Many thanks and much rejoicing for all who have contributed to the board thus far.
We are also working on a cost-effective way to reproduce these mantra boards in smaller sizes and will publicize them when they become available.
If you would more information on the Namgyälma mantra board to bless the waters of the world and all beings or would like to offer support to the project, contact Pam Cayton ([email protected]).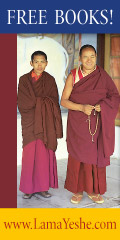 Every second of this human life is more precious than skies of wish-granting jewels.
Lama Zopa Rinpoche
Contact Info
1632 SE 11th Avenue
Portland, OR 97214-4702 USA
Tel (503) 808-1588 | Fax (503) 232-0557
About FPMT
FPMT is an organization devoted to the transmission of the Mahayana Buddhist tradition and values worldwide through teaching, meditation and community service.
more...
About Buddhism
If you're new to Buddhism, please read our
Buddhism FAQ
. A place to learn about Buddhism in general, FPMT, and our Discovering Buddhism at Home series.