The Maitreya Heart Shrine Relic Tour, a collection of sacred relics of the Buddha and other Buddhist masters assembled by Lama Zopa Rinpoche, broke a record for most visitors in Thimphu, Bhutan, the country's capital. The relics were showcased in RAPA Hall to an estimated 62,000 according to Ugyen Wangdi in an email to Rinpoche.
"A lady in yesterday's TV interview on Bhutan Broadcast Service," Ugen adds, "said that the relics came to Bhutan through your auspices." 
Lama Zopa Rinpoche replied:
Thank you very, very much your kind letter and photos and thank you so much supporting the relics. It becomes great purification, way to collect extensive merits for sentient beings, plants the seed of the path to enlightenment that makes it more possible to achieve enlightenment and to free all the sentient beings from the oceans of samsaric sufferings and bring to enlightenment."
After Bhutan, the Maitreya Heart Shrine Relic Tour continues its European and Asian tour in Sikkim and then with an extended stay in Australia. The concurrent Americas tour is in Miami, Florida, United States until November 17 before moving on to Texas, New Mexico, California and Washington.
Kuensel Online, a Bhutanese daily news site, offers some insight into what the relic tour coming to the country means for the people there.
Mandala brings you news of Lama Zopa Rinpoche and of activities, teachings and events from over 160 FPMT centers, projects and services around the globe. If you like what you read on Mandala, consider becoming a Friend of FPMT, which supports our work.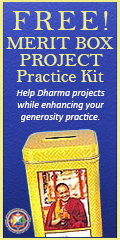 If we want to understand how we are ordinarily misled by our false projections and how we break free from their influence, it is helpful to think of the analogy of our dream experiences. When we wake up in the morning, where are all the people we were just dreaming about? Where did they come from? And where did they go? Are they real or not?
Lama Thubten Yeshe
Contact Info
1632 SE 11th Avenue
Portland, OR 97214-4702 USA
Tel (503) 808-1588 | Fax (503) 232-0557
About FPMT
FPMT is an organization devoted to the transmission of the Mahayana Buddhist tradition and values worldwide through teaching, meditation and community service.
more...
About Buddhism
If you're new to Buddhism, please read our
Buddhism FAQ
. A place to learn about Buddhism in general, FPMT, and our Discovering Buddhism at Home series.