Photographer Chris Majors captured in vivid and glorious detail the long life puja offered to FPMT spiritual director Lama Zopa Rinpoche at Land of Medicine Buddha in California. You can see all of his photos from the festive and beautiful day on Chris' Flickr page.
The long life puja, held on Sunday, September 29, 2013, included the special dance of the five dakinis in accordance with advice given by Khadro-la (Rangjung Neljorma Khadro Namsel Drolma) for Lama Zopa Rinpoche's health and long life.
Dagri Rinpoche, Yangsi Rinpoche, Geshe Ngawang Dakpa as well as Tenzin Ösel Hita all attended the puja, which was offered by FPMT Inc. Board of Directors and FPMT North America with logistical support from local FPMT centers and projects. Tenzin Ösel is the recognized reincarnation of FPMT founder Lama Yeshe. For the puja, he composed and read praises for Lama Zopa Rinpoche.
In addition to hosting the long life puja, Land of Medicine Buddha hung dozens of Tendil Nyersel prayer flags. FPMT centers, projects and services are encouraged to continue to do the practices for Lama Zopa Rinpoche as advised by Khadro-la, which include hanging the Tendil Nyersel prayer flags as well as reciting Most Secret Hayagriva mantra and organizing animal liberations. More information is available on the page "Rinpoche's Health – Official Updates and Practices."
If you've hung Tendil Nyersel flags at your center, send your pictures to Mandala! (Submission information here.)
Mandala brings you news of Lama Zopa Rinpoche and of activities, teachings and events from over 160 FPMT centers, projects and services around the globe. If you like what you read on Mandala, consider becoming a Friend of FPMT, which supports our work.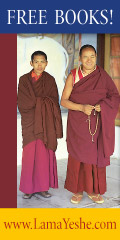 I hope that you understand what the word 'spiritual' really means. It means to search for – to investigate – the true nature of the mind. There's nothing spiritual outside. My rosary isn't spiritual; my robes aren't spiritual. Spiritual means the mind and spiritual people are those who seek its nature.
Lama Thubten Yeshe
Contact Info
1632 SE 11th Avenue
Portland, OR 97214-4702 USA
Tel (503) 808-1588 | Fax (503) 232-0557
About FPMT
FPMT is an organization devoted to the transmission of the Mahayana Buddhist tradition and values worldwide through teaching, meditation and community service.
more...
About Buddhism
If you're new to Buddhism, please read our
Buddhism FAQ
. A place to learn about Buddhism in general, FPMT, and our Discovering Buddhism at Home series.