Su Ianniello, spiritual program coordinator at Pamtingpa Center, a small FPMT center in north central Washington in the United States, shares in the April-June 2014 issue of Mandala the story of how the students there came together to fulfill Lama Zopa Rinpoche's advice to build a stupa.

"A few years ago, Lama Zopa Rinpoche came to the land. As we were all leaving, Rinpoche turned and looked out over the mountains and said, 'A stupa here.' That's how our stupa building project began," Su writes. "We were still trying to figure out how complete the project two years later. When Lama Zopa Rinpoche came back to town, he told us to build the gompa first, giving us some funds to begin this new project. However, a few weeks after Rinpoche left, we got a message to go back to the stupa project, using the funds for the gompa. These were some good lessons in flexibility."
Read the complete story with our online edition for Mandala April-June 2014.
Mandala brings you news of Lama Zopa Rinpoche and of activities, teachings and events from over 160 FPMT centers, projects and services around the globe. If you like what you read on Mandala, consider becoming a Friend of FPMT, which supports our work.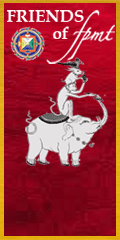 We are not compelled to meditate by some outside agent, by other people, or by God. Rather, just as we are responsible for our own suffering, so are we solely responsible for our own cure. We have created the situation in which we find ourselves, and it is up to us to create the circumstances for our release. Therefore, as suffering permeates our life, we have to do something in addition to our regular daily routine. This "something" is spiritual practice or, in other words, meditation.
The Purpose of Meditation
Lama Yeshe Wisdom Archive
Lama Zopa Rinpoche
Contact Info
1632 SE 11th Avenue
Portland, OR 97214-4702 USA
Tel (503) 808-1588 | Fax (503) 232-0557
About FPMT
FPMT is an organization devoted to the transmission of the Mahayana Buddhist tradition and values worldwide through teaching, meditation and community service.
more...
About Buddhism
If you're new to Buddhism, please read our
Buddhism FAQ
. A place to learn about Buddhism in general, FPMT, and our Discovering Buddhism at Home series.