It's a big week for Wisdom Publications, a leading publisher of Buddhist books and an affiliate of FPMT. The Somerville, Massachusetts-based publisher announced a new website with a new blog as well as a new distribution arrangement with the international publisher Simon and Schuster.
"We look forward to working with Simon and Schuster to better fulfill our mission of nurturing communities of readers and authors by being a source of high quality, polished and carefully chosen works," said Tim McNeill, Wisdom Publications CEO.
While Wisdom publishes books from all major Buddhist traditions, the publisher's catalog of Tibetan Buddhist titles is unparalleled and includes the exceptional Library of Tibetan Classics series as well as titles by many 20th-century Tibetan Buddhist masters. 

Wisdom origins stretch back to Lama Yeshe and Lama Zopa Rinpoche's early days of teaching Dharma to Westerns at Kopan Monastery in Nepal. Ven. Robina Courtina and Lama Yeshe Wisdom Archive director Nick Ribush were involved in the early development of Wisdom Publications. Tim McNeill, a long-time FPMT student and current member of the FPMT Inc. Board of Directors, has led Wisdom and its impressive staff for the past 25 years.
If you like what you read on Mandala, consider becoming a Friend of FPMT, which supports our work.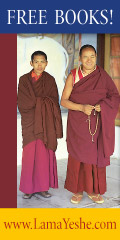 If you cherish another person, another sentient being, there is enlightenment and you cause them to achieve every happiness. If you don't cherish them, there is no enlightenment for you. Therefore, this person, this one sentient being, is the most precious one in one's own life. Therefore, what is called I needs to be let go forever. And what is called other, even one sentient being, that is to be cherished forever.
Lama Zopa Rinpoche
Contact Info
1632 SE 11th Avenue
Portland, OR 97214-4702 USA
Tel (503) 808-1588 | Fax (503) 232-0557
About FPMT
FPMT is an organization devoted to the transmission of the Mahayana Buddhist tradition and values worldwide through teaching, meditation and community service.
more...
About Buddhism
If you're new to Buddhism, please read our
Buddhism FAQ
. A place to learn about Buddhism in general, FPMT, and our Discovering Buddhism at Home series.