Bangalore, India — February 2, 2011
From Ven. Roger:
Rinpoche jumped up from his chair suddenly and ran to the center of the restaurant, went on to his knees and quickly tried to protect the cockroach from the waiter about to severely damage it with his foot! The cockroach got away and we were all after it. It ran under Rinpoche's foot and Rinpoche stood still keeping it under his foot, protecting it and reciting mantras. While this was happening we explained to the six or seven waiters that we were just trying protect the cockroach and bless it.
We are in Bangalore about to go to the airport again after a day with the Indian bureaucracy. It is a long complicated process dealing with the foreign registration office but we had lots of help and at the end Rinpoche was asked if he would go behind the counter and bless all the staff. Rinpoche happily accepted and blessed the staff one by one. That takes time!
Now we are about to leave (or should leave) but Rinpoche met one of the hotel people and is now explaining the story of Atisha. I guess we had better sit down and relax…This will take time.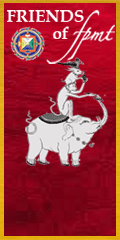 However the very bottom line is to do all ones actions with bodhichitta. That is the best, the most meaningful way to think during your break time. This makes your life most beneficial. As much as possible with awareness keep ones attitude and thoughts in bodhichitta, the thought of benefiting others, try to do all the activities with that mind, including doing your job and throughout the day. This way even in your break time whatever you do becomes the cause of happiness.
Lama Zopa Rinpoche
Contact Info
1632 SE 11th Avenue
Portland, OR 97214-4702 USA
Tel (503) 808-1588 | Fax (503) 232-0557
About FPMT
FPMT is an organization devoted to the transmission of the Mahayana Buddhist tradition and values worldwide through teaching, meditation and community service.
more...
About Buddhism
If you're new to Buddhism, please read our
Buddhism FAQ
. A place to learn about Buddhism in general, FPMT, and our Discovering Buddhism at Home series.