Aptos, United States – April 15 – 19, 2010
From Ven. Holly Ansett:
As soon as Lama Zopa Rinpoche saw the wooden carving of the Namgyälma mantra given to him by Fred Cheong and other students from Singapore, he began to prostrate. The mantra board will help Rinpoche to bless the world's oceans.
These very fortunate fish at Rinpoche's house are receiving mantra blessing. You'll see that there is also a stupa in the fish pond so that the fish can circumambulate.
Lama Zopa Rinpoche is offering water to the pretas (hungry ghosts) with an elephant watering can.
When Lama Zopa Rinpoche went shopping for flowers, he came across a dog in the car parked next to us and began to recite Maitreya Buddha mantra as a blessing.
Before lunch, Lama Zopa Rinpoche makes offerings to Dzambala.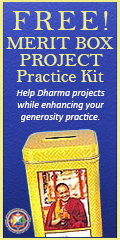 Our grabbing ego made this body manifest, come out. However, instead of looking at it negatively, we should regard it as precious. We know that our body is complicated, but from the Dharma point of view, instead of putting ourselves down with self-pity, we should appreciate and take advantage of it. We should use it in a good way.
Lama Thubten Yeshe
Contact Info
1632 SE 11th Avenue
Portland, OR 97214-4702 USA
Tel (503) 808-1588 | Fax (503) 232-0557
About FPMT
FPMT is an organization devoted to the transmission of the Mahayana Buddhist tradition and values worldwide through teaching, meditation and community service.
more...
About Buddhism
If you're new to Buddhism, please read our
Buddhism FAQ
. A place to learn about Buddhism in general, FPMT, and our Discovering Buddhism at Home series.