How to Practice with Your Merit Box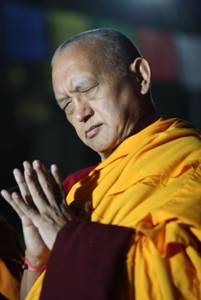 FPMT recommends the practice below for generating the most merit while using your Merit Box.  At the end of your practice, you may place a donation in your Merit Box (collection information here), or make your donation online by clicking on the alms bowl below.
The Merit Box Practice:
I now clear my mind of all distractions and take refuge in the Three Jewels – Buddha, Dharma, and Sangha.
In order to reach enlightenment as quickly as possible for the benefit of all sentient beings, I am going to engage in the practice of generosity using the Virtual Merit Box.
Now, I imagine that in the space in front of me appears my immeasurably kind spiritual guide, who is in essence the fully awakened Buddha, in the form of Lama Tsongkhapa or whatever deity I am practicing.
As well, I am surrounded by the numberless suffering sentient beings of the six realms in human form, as far as I can see in all directions. All of these sentient beings have been suffering incredibly since beginningless time, exactly like myself.
Thinking like this, I am filled with heartfelt and unbearable compassion for the suffering of all these sentient beings, who have been incredibly kind and have been my mother countless times in my past lives. I am filled with the wish to free them from their sufferings, at any cost, as quickly as possible.
My heart is completely filled with joy that I am able to benefit sentient beings by making a contribution to the projects of the FPMT.
Now visualize your offering benefiting all sentient beings. (Imagine that you are not just offering physical money but offering limitless skies of the most precious offering substances of all kinds to fulfill the wishes and relieve the sufferings of all sentient beings.)
The Buddha appearing in front of me is very pleased and sends forth a rain of wisdom nectar that flows into me and purifies all my obscurations to enlightenment. The nectar also flows into all the sentient beings that surround me. They too are completely purified and satisfied, and they are all transformed into Buddha.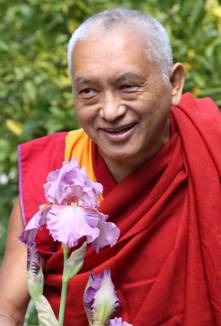 Dedication
I dedicate these merits that in all our future lives I and all mother sentient beings may never be separated from the extremely kind and pure guru, who is the foundation of all good qualities and the only cause of our realizations along the path to enlightenment. Through these merits, may I attain the ultimate state of a guru-buddha in order to bring all sentient beings to that perfect enlightened state.
Order your free International Merit Box Kit.
Statements of Appreciation
A few days ago I completed a year of retreats….at two FPMT centres (though I have visited and am very familiar with several others).  The staff of the two centres could not have been kinder and more supportive.  It is especially through appreciating their cultures of care and support for retreatants that I have renewed my admiration for the FPMT, and thereby for your [Lama Zopa Rinpoche's] extraordinary holy activity for sentient beings.  I  have reflected on how marvelous it is in the world of suffering, war, depression, social dissatisfaction and spiritual denial, to have these oases of perfection, the FPMT centers. Moreover I have witnessed some unfortunate, unethical activities in other Buddhist organizations that make one feel so sad.  Also the FPMT is generating study in the tradition of Je Rinpoche and yogic practice leading to enlightenment in a unique way.  Compared to other organizations, the FPMT shines with virtue and a deep harmony.  Of course there are superficial problems that come and go within FPMT – this is only to be expected – but I recognize that these are insignificant compared with the tremendous benefits to all  beings generated through FPMT activities.
– Andy Wistreich, August 2008
Contact Info
1632 SE 11th Avenue
Portland, OR 97214-4702 USA
Tel (503) 808-1588 | Fax (503) 232-0557
About FPMT
FPMT is an organization devoted to the transmission of the Mahayana Buddhist tradition and values worldwide through teaching, meditation and community service.
more...
About Buddhism
If you're new to Buddhism, please read our
Buddhism FAQ
. A place to learn about Buddhism in general, FPMT, and our Discovering Buddhism at Home series.