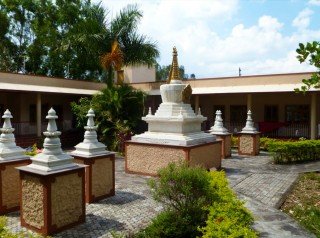 The Stupa Fund recently offered US$2,000 for a marble stupa at IMI House, the khangtsen for FPMT Western Sangha at Sera Je Monastery.
The Benefits of Building Stupas
The main purpose of building stupas is to make the lives of all beings, young and old, meaningful. For those beings who see the stupa it will:
™
Help purify their mind
Help collect merit, which is the cause of all happiness and all success
Help heal their body and mind through purification specifically due to the power of the stupa, meditating on and seeing the holy object
™Help to preserve Tibetan Mahayana culture
There is a need [in the world] to develop compassion and a warm heart. Thus, building a stupa can help to develop so much peace and happiness for numberless sentient beings. As a result, wars, disease, and desire will be pacified by this change of attitude. Disease arising out of the negative mind will be stopped, and previous negative karmas will be purified. Building a stupa will give so much peace and so much peace of mind to the local people where the stupa is built and to people from all over the world. It will purify the mind so that people receive inner peace. Just by coming here [to this place with a stupa], beings will receive an education in order to develop a good heart, compassion and loving kindness, tolerance, patience – all these most precious human qualities of the mind. And inspiration!


You are welcome to donate any amount to the Stupa Fund:
Statements of Appreciation
First of all, congratulations on the successful launch of the DB Online programme, its fantastic!!! Second, I've long meant to comment on how amazed I am by all resources of the FPMT Education Department, and the breadth of the Education Program worldwide (and accessibility) from DB to the Masters Program. Its all first-rate, from the teachings, the resources and materials, all the booklets, audio and video FPMT offers are quite fantastic, and such an important support for anyones practice at any level. The love that's gone into all of it is abundant and obvious.
– Stephen Austra-Beck
Contact Info
1632 SE 11th Avenue
Portland, OR 97214-4702 USA
Tel (503) 808-1588 | Fax (503) 232-0557
About FPMT
FPMT is an organization devoted to the transmission of the Mahayana Buddhist tradition and values worldwide through teaching, meditation and community service.
more...
About Buddhism
If you're new to Buddhism, please read our
Buddhism FAQ
. A place to learn about Buddhism in general, FPMT, and our Discovering Buddhism at Home series.