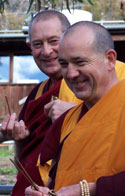 For over 30 years, the monks and nuns of International Mahayana Institute (IMI) have tirelessly helped bring the Buddha's teachings to the far corners of this planet. Today, approximately 280 monks and nuns continue to serve as teachers, retreat leaders, directors, spiritual program coordinators, editors and counselors in FPMT centers, projects and services worldwide.  
The Lama Yeshe Sangha Fund was established to help support the monks and nuns within the IMI community. The goal of the Lama Yeshe Sangha Fund is take care of the IMI monastic community by ensuring that:
The Sangha are educated in Vinaya and Buddhist philosophy as a foundation for their spiritual development as well as in their role as spiritual guides to the larger Buddhist community.
The Sangha have appropriate accommodation
The Sangha have proper food and nourishment
The Sangha have access to proper medical care
The Sangha have a supportive environment and conditions for retreat
The Sangha are cared for when sick and elderly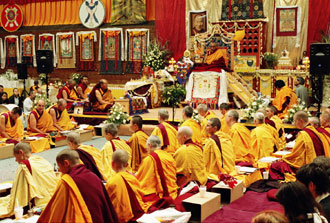 The support for the Lama Yeshe Sangha Fund over the last few years has had tremendous benefit and will continue to do so in the generations to come. Supporting the Lama Yeshe Sangha Fund helps the monks and nuns continue to study, to practice and to live a life in the Buddha's footsteps.
Even after death, whoever donates to this fund will get the merit of having contributed, for as long as the Sangha continues to exist.
If you would like to support the IMI community, you can donate to the Lama Yeshe Sangha Fund online via our secure server. 
Contribute to the Lama Yeshe Sangha Fund
A check or money order can also be sent to:


Lama Yeshe Sangha Fund
IMI
c/o FPMT International Office
1632 SE 11th Avenue
Portland, OR 97214-4702 USA
Fax: (1) (503) 232-0557
Email: office@imisangha.org


FPMT has established the Lama Yeshe Sangha Fund (LYSF) as a designated purpose fund, which with the support of generous benefactors, supports the work of FPMT's affiliate, the International Mahayana Institute (IMI). All donations made to the fund are tax-deductible to the extent allowed by law.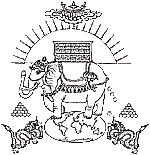 Right understanding is the only solution to both physical and mental problems. You should always check very carefully how you're expending your energy: will it make you happy or not? That's a big responsibility, don't you think? It's your choice: the path of wisdom or the path of ignorance.
Lama Thubten Yeshe
Contact Info
1632 SE 11th Avenue
Portland, OR 97214-4702 USA
Tel (503) 808-1588 | Fax (503) 232-0557
About FPMT
FPMT is an organization devoted to the transmission of the Mahayana Buddhist tradition and values worldwide through teaching, meditation and community service.
more...
About Buddhism
If you're new to Buddhism, please read our
Buddhism FAQ
. A place to learn about Buddhism in general, FPMT, and our Discovering Buddhism at Home series.