Every month on the full moon the Puja Fund sponsors the offering of robes, made of the most precious material, to the most holy Buddha Statue in Mahabodhi temple, Bodhgaya, India, this is something amazing to rejoice in, to mentally offer and dedicate towards and also something you can also participate in by donating any amount … How amazing!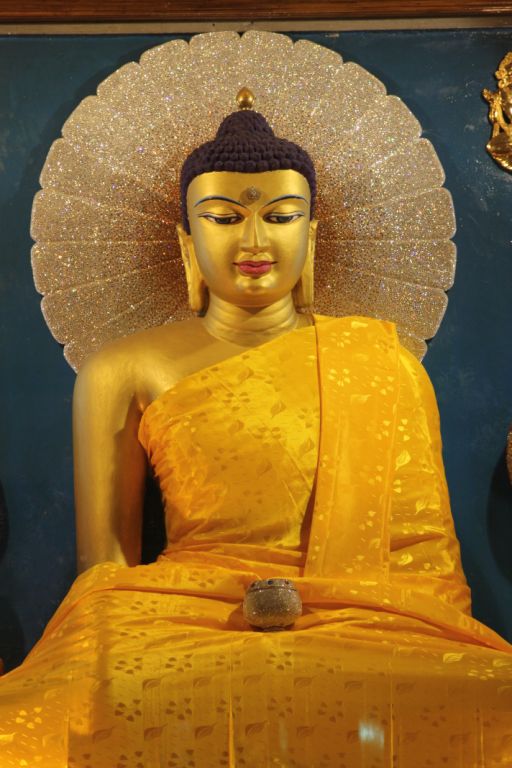 During the robe offering, students and Sangha from Root Institute offer prayers and practices including verses like this from the NyungNäSadhana:
In order to purify my mind, I offer an exquisite precious garment,
Multicolored like Indra's variegated bow,
That when touched becomes the cause of bliss
May I be adorned with the holy garment of patience.
OM VAJRA VASTRAYE AH HUM SVAHA
As Lama Zopa Rinpoche has quoted from the White Lotus Sutra:

Even just making one sound, or a cymbal offering
Even just offering one single flower
To the form of one who has gone to bliss (buddha) on a stone wall,
Even if they make the offering with an angry attitude
Those living beings will gradually see ten million buddhas.
The above quote was extracted from "Benefits of Having Many Holy Objects," by Lama Zopa Rinpoche.

Tremendous thanks to Root Institute who arrange this monthly.
 To donate toward these and all other ongoing pujas of the Puja Fund:

Statements of Appreciation
I am so grateful for all the work that you all put in so that I can learn the path. True rejoicing! I am enjoying the path so very much. I can't imagine my life without it. Every moment is filled with dharma – in all aspects of my life. I even have dharma dreams now! Maybe some purification is going on. Such a long way to go but …step by step.
– Julie, Australia
Contact Info
1632 SE 11th Avenue
Portland, OR 97214-4702 USA
Tel (503) 808-1588 | Fax (503) 232-0557
About FPMT
FPMT is an organization devoted to the transmission of the Mahayana Buddhist tradition and values worldwide through teaching, meditation and community service.
more...
About Buddhism
If you're new to Buddhism, please read our
Buddhism FAQ
. A place to learn about Buddhism in general, FPMT, and our Discovering Buddhism at Home series.