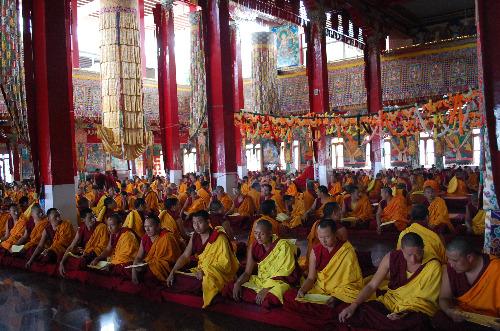 Since 1995 the Puja Fund has been sponsoring pujas, prayers and practices performed by as many as 9,000 Sangha, on behalf of the entire FPMT organization. Recently, Lama Zopa Rinpoche revised all of the yearly and ongoing activity that the fund supports – quadrupling the offerings in the process! The annual cost of these offerings is now estimated at US$85,000. Please rejoice in this incredible array of pujas, prayers and practices. This is something amazing to rejoice in, to mentally offer and dedicate towards and also something you can participate in by donating any amount … How amazing!

Statements of Appreciation
I'm really glad that I decided to do the (Basic Program) exam and retreat, as it has given me renewed enthusiasm towards more study and meditation, and humility realizing that whatever I think I know is only like a drop in the the ocean of Dharma. My aspiration is to, in this life, create the causes to never be separated from the Mahayana Dharma, to meet it early, and to abandon the householders life, so I can engage wholeheartedly in the practices that will benefit others. Thank you, and the FPMT office, for all you have done in putting this program together and administering it.
– Janet, USA
Contact Info
1632 SE 11th Avenue
Portland, OR 97214-4702 USA
Tel (503) 808-1588 | Fax (503) 232-0557
About FPMT
FPMT is an organization devoted to the transmission of the Mahayana Buddhist tradition and values worldwide through teaching, meditation and community service.
more...
About Buddhism
If you're new to Buddhism, please read our
Buddhism FAQ
. A place to learn about Buddhism in general, FPMT, and our Discovering Buddhism at Home series.