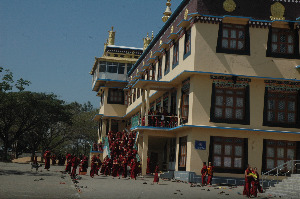 Sera Je Monastery monks are pictured here performing pujas sponsored by the Puja Fund and dedicated to the long life of His Holiness the Dalai Lama, the success of all FPMT centers, projects, services, students, benefactors and those serving the organization in any way.
Each month, pujas are performed by as many as 9,000 Sangha. The enormous number of Sangha engaged in these practices is an extremely powerful means to overcome obstacles and create merit for the entire organization.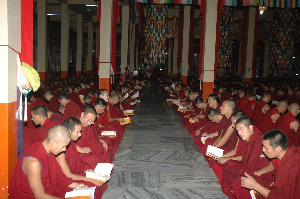 Ven. Roger Kunsang, FPMT's CEO, recently commented, "It is really quite an inspiring list [of pujas offered] and thousands of monks are involved. They are all disciples of the one Guru so the merit is vast. You can't get enough zero's on the biggest calculator [to show how much merit]!"
Statements of Appreciation
I just got the Prayer Book Volume 1 2008 edition, and I can't begin to thank you and all involved for how beautiful and beautifully compiled it is!! What a blessing and asset this will be to my practice!!! Another reminder of why I am so grateful for and think the FPMT should be the fourth jewel I could take refuge in!!!
– Stephen
Contact Info
1632 SE 11th Avenue
Portland, OR 97214-4702 USA
Tel (503) 808-1588 | Fax (503) 232-0557
About FPMT
FPMT is an organization devoted to the transmission of the Mahayana Buddhist tradition and values worldwide through teaching, meditation and community service.
more...
About Buddhism
If you're new to Buddhism, please read our
Buddhism FAQ
. A place to learn about Buddhism in general, FPMT, and our Discovering Buddhism at Home series.