Posts Tagged "animals&quot
There are 17 results found
In May 2014, Lama Zopa Rinpoche went to the beach in California to bless all the sentient beings in the ocean. Ven. Thubten Kunsang recorded a video of the beach visit.
Last year, Lama Zopa Rinpoche, Dagri Rinpoche and about 100 students went to a local wharf near Kachoe Dechen Ling in California to bless the sentient beings in the ocean. Like on many other occasions, they lowered the embossed Namgyälma mantra boards into the water, but this time state park rangers asked them to leave because they did not have the required permit.
The next day, the Lama Yeshe Wisdom Archive reports, Rinpoche wanted to send this letter:
I, Lama Zopa Rinpoche, Spiritual Director of 161 centers in 31 countries and the Buddhist Sangha from Kachoe Dechen Ling, Aptos, California, seek permission to bless the ocean off the Seacliff State Park wharf.
Just as the fisher people get permission, we also request the state parks for this permission. Within this great democratic country, which gives so much happiness to others, please grant permission to bless the ocean and liberate all the animals and fish in the ocean, to free them from the suffering of rebirth, old age, sickness and death, and to help them achieve total liberation from suffering and attain the state of omniscient mind, the peerless happiness. Attached are a few photos of the mantra board which we use to bless the ocean.
Thank you very much for your time.
Lama Zopa Rinpoche, 
FPMT Spiritual Director
You can read more from Rinpoche on "Benefiting Animals" on "Lama Zopa Rinpoche's Online Advice Book."
Learn more about FPMT spiritual director Lama Zopa Rinpoche and his beneficial activities by visiting Rinpoche's homepage, where you will find links to Rinpoche's schedule, new advice, recent video, photos and more.
Lama Zopa Rinpoche has given much advice about benefiting and not harming animals. From "Lama Zopa Rinpoche's Online Advice Book," here's Rinpoche's advice on the karma of killing animals:
"Animals have feelings. They have the same mind as we have, and also want happiness, like we do. For example, if you suddenly touch them, they are immediately frightened. They get frightened if somebody beats or hits them with a stick. We also get frightened. If somebody throws cold water on our body, suddenly we feel a shock. It is the same for animals. They have the same mind, and it is very important what happens to them.
"Even if they can't speak, can't express themselves, animals can show their fear through their body. For example, they try to run away. Human beings can talk and complain, and they can bring court cases. Human beings can report things to the police. Human beings can do so much, but animals can't – they can do nothing. They can't express their suffering. Human beings can talk about their fears. Whether other people accept your suffering or not, at least you can explain it and the other person can hear. Animals can't, but you can see how they feel from their movements. If someone tries to attacks them, they run away. They are afraid, which means they want happiness and not suffering. This is a very important point, that they have the same mind as us. If you kill them, you create the negative karma to be like them. For one hundred thousand lifetimes, you will have the karma to be born as an animal. For many thousands of lifetimes, you will suffer the consequences.
"It is said in the teachings that if you kill one animal, because of that karma, you will be killed five hundred times by others. You will suffer in the very hot hell realm for one thousand eons. It is also good to ask yourself how it would be if somebody killed you with a knife. How would you feel in that situation? For example, if you put your finger in hot water, can you bear that? You can't bear it. It's the same when you kill animals. There is no good result from it. There is no question about that."
You can find "Lama Zopa Rinpoche's Online Advice Book" on the Lama Yeshe Wisdom Archive website.
Learn more about FPMT spiritual director Lama Zopa Rinpoche and his beneficial activities by visiting Rinpoche's homepage, where you will find links to Rinpoche's schedule, new advice, recent video, photos and more.
While staying in California, Lama Zopa Rinpoche likes to go to the nearby Pacific Ocean and bless all the sentient beings in the ocean. For the blessing, Rinpoche has had special boards made with the Namgyälma mantra on them. When the boards are placed in the ocean, the blessings of the mantra are carried throughout the water. 
More information, photos and updates about FPMT spiritual director Lama Zopa Rinpoche can be found on Rinpoche's homepage. If you'd like to receive news of Lama Zopa Rinpoche via email, sign up to Lama Zopa Rinpoche News.
It is a dreamy autumn day. A light rain is soaking into the thirsty soil of my garden to the delight of plants and weeds and birds and possums and our local, sweet little antechinus which looks like a mouse. The dry summer which seemed to last forever has, like everything else, suffered the fate of impermanence. For the first time this year, I have to hang the washing indoors. The occasional patches of sunlight make a half-hearted effort to dry it out. I had planned to work in the garden but my back, another example of impermanence, will let me bend over, but not let me straighten up. I give up on gardening for a few days. Now I can set my mind any way I choose provided I do not use my back. What to choose?
It looked like a mouse, but it was an antechinus that ran across my kitchen bench this morning. They tend to sneak inside when I leave a door open. The antechinus is a little marsupial, common where I live. My home is a great environment as far as they are concerned. Warm, lots of food, especially highly desired dog food. Lots of water, and a dog trained to not catch them. At this time of the year, the females are also looking for a warm place to nest. The locals have a soft spot for them, but not the holiday makers.
In a holiday town like mine, many visitors think the antechinuses are mice. Mice are vermin and have to be killed. They set their baits and lethal traps not knowing they are killing off a native animal. Without being taught, it is difficult to discriminate between mice and antechinuses. Discrimination is a form of wisdom. Without this wisdom, antechinuses become mice, and thus, vermin.
Wisdom has several aspects, and discrimination is one of them. Each of these are born from Prajñaparamita, the mother of wisdom. All her children have different qualities designed to oppose different forms of ignorance. The main ones are:
1. Mirror-like Wisdom, the child that watches and which sees everything, just as a mirror reflects everything near it, there is no anger in this child, just watchfulness.
2. Wisdom of Equality, the calm child, the child that feels his or her pleasure and pain and but does not build them into dramatic stories of needing the pleasure or being horrified by the pain. This child has no pride. She knows what it was like before the calm set in.
3. Wisdom of Discrimination loves maths. This child can easily separate one object from another. All objects are simply that so this child has no space for grasping and clinging.
4. Wisdom of Accomplishment is the child that shows us how to get things done. Jealousy is not an issue, it only interferes with the task. So this child shows no jealousy.
5. And finally there is the child that is rarely seen but always present, Wisdom of Dharmadhatu, the essence of the wisdom of our own consciousness, the wisdom that becomes the boundless essence of a buddha.
So what has this to do with my antechinus? Obviously the wisdom of discrimination will help me differentiate it from a mouse, but the other wisdoms are also ready to help. Mirror-like Wisdom points out that I do not need to label the creature as good or bad and so there is no need to be angry with it. Wisdom of Equality teaches me that any alarm that may arise comes from me and not from the cute little animal. My pride becomes dashed by this awareness. Wisdom of Accomplishment points out that I can see this little creature as a teacher, not separate from my Dharma path. And within the help of Wisdom of Dharmadhatu I can see both "I" and it are impermanent and we do not inherently exist. It teaches me to see through the eyes of Buddha.
Now I need to be practical and find a non-lethal trap for this little antechinus because it does, like mice, leave its droppings everywhere and I do not want myself or my visitors to become ill. Then when it is caught, I can release it gently back into the bush and hope that it finds a new habitat there. May this precious teacher find the happiness that does not change.
Ven. Chönyi Taylor is a registered Foundational Buddhism FPMT teacher and an elder for the Discovering Buddhism at Home Course. She is the author of Enough! A Buddhist Approach to Working with Addictive Patterns (Snow Lion, 2010) and has been published in Mandala, Buddhadharma, Dharma Vision and Sangha Magazine. She is a founding member and member of the training committee of the Australian Association of Buddhist Counsellors and Psychotherapists and an Honorary Lecturer in the Discipline of Psychiatry at Sydney University.
Lama Zopa Rinpoche works tirelessly to benefit all beings everywhere, including ants. While Rinpoche was at Buddha Amitabha Pure Land in north central Washington, US, Rinpoche spent time making offerings to ants for their benefit. Rinpoche's practice for benefiting ants is described in Charity to Ants, published by FPMT Education Services.
Learn more about Lama Zopa Rinpoche, spiritual director of the Foundation for the Preservation of Mahayana Tradition (FPMT), and Rinpoche's vision for a better world. Sign up to receive news and updates. 
Lama Zopa Rinpoche's devotion manifests in a natural curiosity to learn mantras in the original Sanskrit when possible and appropriate. Rinpoche later uses what he learns to bless people and animals that he comes across, such when once Rinpoche met a small bird in a garden store:
Lama Zopa Rinpoche is the spiritual director of the Foundation for the Preservation of Mahayana Tradition (FPMT), an organization dedicated to preserving Mahayana Buddhism through offering the Buddha's authentic teachings and to facilitating reflection, meditation, practice and the opportunity to actualize and directly experience the Buddha's teachings. Sign up to receive news and updates.
In addition to the weekly animal liberations offered by the Sangha at Kachoe Dechen Ling – Lama Zopa Rinpoche's California residence, Lama Zopa Rinpoche has requested the Sangha to also make weekly trips to the Pacific Ocean in order to bless all the beings living in the ocean, by using large  Namgyälma mantra boards. This practice benefits all sentient beings in the ocean as well as all who touch the ocean, swim in the ocean, surf, etc. The Pacific Ocean is the world's largest ocean (69,375,000 square miles) so by blessing this ocean, the benefit spreads far and wide. As well as blessing the sentient beings in the ocean and those who interact with the ocean, extensive practice involving visualization and mantra recitation is also done in accordance with advice from Lama Zopa Rinpoche. An excerpt from this beautiful practice, the abbreviated Yeshe Kadra practice:
From the introduction:
Pretas suffer heavily of hunger and thirst – not finding even a drop of water or a spoonful of food for hundreds of thousands of eons; incredible exhaustion; disappointment; heat and cold, etc.  In particular, the pretas experience three types of obscurations: outer, inner, and obscurations related to food and drink. This practice of  "Yeshe Karda" is a practice whereby every single preta, of all the different types of pretas, receives drink.
From the actual practice:
For all pretas, whom the Omniscient Mind sees, this ocean of water appears as nectar. All pretas see it as an ocean of milk; they drink it and are fully satisfied. It liberates them from all sufferings, defilements, and the causes of sufferings – karma and delusions, including the specific sufferings of pretas.  All these are purified and they actualize the whole path to enlightenment.
The practice is dedicated to all beings, especially for the long life of our precious gurus and and with Lama Zopa Rinpoche's recommended dedication practices.
Here you can see Rinpoche doing this very practice with Sangha
 About the Namgyälma mantra, Lama Zopa Rinpoche has said:
"Namgyälma is one of the five powerful deities that manifested to purify negative karma. The benefits of reciting the five powerful mantras are mind blowing. If you recite the mantras for anyone who has been born in the lower realms, it has the power to liberate them into a pure land and so forth. That's an incredible thing. The mantra when written can be put on the head of a person or animal who has passed away. Or you can chant this mantra and then blow on water or sand, which you throw over the body to purify. These mantras are very important and powerful in the jangwa prayers.
"Before reciting the mantra one can do the seven-limb prayer. Then make a request to Namgyalma for oneself and all sentient beings to be completely purified of all negative karmas and all those who are already in the lower realms to be immediately born in the pure land, where they can attain enlightenment, or to receive perfect human rebirth, meet the pure Mahayana teachings and be guided by perfectly qualified Mahayana gurus. Also, all the different negative karmas of sentient beings causing war, earthquakes, famine, disease, etc. to be purified, to not happen again in the future.
"Generate strong compassion. Recite the long mantra several times and then the short mantra. As you recite the mantra, visualize nectar beams are emitted, purifying the negative karmas of every sentient being since beginningless rebirth. They all receive the blessings of Namgyälma."
Extracted from advice given by Lama Zopa Rinpoche following the tsunami tragedy, Kachoe Dechen Ling, December 28th 200.
Long Namgyälma Mantra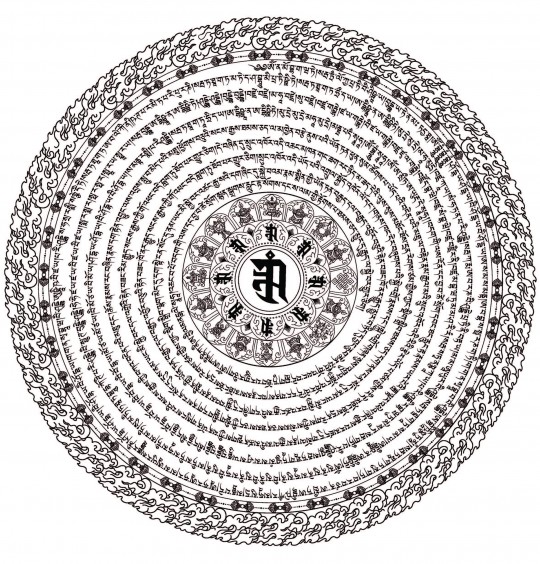 OM NAMO BHAGAVATE / SARVA TRAILOKYA
PRATIVISHISHTAYA / BUDDHAYA TE NAMA TADYATHA /
OM BHRUM BHRUM BHRUM SHODHAYA SHODHAYA /
VISHODHAYA VISHODHAYA / ASAMA SAMANTA / AVABHASA
SPHARANA GATI / GAGANA SVABHAVA VISHUDDHE /
ABHISHINCHANTU MAM / SARVA TATHAGATA SUGATA / VARA
VACHANA AMRITA ABHISHEKAIRA / MAHAMUDRA / MANTRA
PADE / AHARA AHARA / MAMA AYUR SAMDHARANI /
SHODHAYA SHODHAYA / VISHODHAYA VISHODHAYA /
GAGANA SVABHAVA / VISHUDDHE USHNISHA VIJAYA /
PARISHUDDHE SAHASRA RASMI SANCHO DITE / SARVA
TATHAGATA AVALOKINI / SHAT PARAMITA PARIPURANI /
SARVA TATHAGATA MATE DASHA BHUMI PRATISHTHITE /
SARVA TATHAGATA HRIDAYA / ADHISHTHANA ADHISHTHITE /
MUDRE MUDRE / MAHA MUDRE / VAJRA KAYA / SAMHATANA
PARISHUDDHE / SARVA KARMA AVARANA VISHUDDHE
PRATINI VARTAYA / MAMA AYUR VISHUDDHE / SARVA
TATHAGATA SAMAYA / ADHISHTHANA ADHISHTHITE / OM
MUNI MUNI MAHA MUNI / VIMUNI VIMUNI MAHA VIMUNI /
MATI MATI MAHA MATI / MAMATI / SUMATI / TATHATA BHU
DHA KOTI PARISHUDDHE / VISPHUTA BUDDHE SHUDDHE /
HE HE JAYA JAYA VIJAYA VIJAYA / SMARA SMARA /
SPHARA SPHARA / SPHARAYA SPHARAYA / SARVA BUDDHA
ADHISHTHANA ADHISHTHITE / SHUDDHE SHUDDHE / BUDDHE
BUDDHE / VAJRE VAJRE / MAHA VAJRE / SUVAJRE / VAJRA
Further Reading/Resources
 You are welcome to contribute any amount to this weekly practice:
Earlier this year, Ven. Drachom (Fred Cheong), vice president of Amitabha Buddhist Centre's (ABC) executive committee, pledged to liberate 10 million beings for the long life of Lama Zopa Rinpoche and a team of ABC volunteers are involved in making all of this happen. Ven. Drachom first began doing animal liberation practice when Geshe Lama Konchog became ill with cancer in 2000. He pledged to Lama Zopa Rinpoche to liberate one million animals for Geshe Lama Konchog, which he did and then some. When Rinpoche manifested a stroke in 2011, Ven. Drachom and his team liberated 10 million animals in four months, dedicating the merit to Rinpoche's complete recovery and long life.
About once a month at ABC, sea creatures are purchased at a seafood market to liberate. Then they circumambulate the animals around center, which has 100 sets of the Kangyur and Tengyur as well as more than 300 stupas and many holy objects, including prayer wheels and statues. They do the animal liberation practice in the FPMT Prayer Book. Then, using a boat, the animals are taken to a place where they can be released. "We have good conditions to do this," Ven. Drachom explains. "We are close to the sea and have a good place to release them, where they are in the correct environment."
Strong prayers and dedications are made for His Holiness the Dalai Lama's long life and to stay with us and guide us, and for all of His Holiness' prayers and wishes to come true as well as for the long life and perfect health of Lama Zopa Rinpoche and for all of Rinpoche's wishes and prayers to succeed.
"At ABC, our intention is to continue doing animal liberation practice and benefiting beings forever – life after life," Ven. Drachom said. For the future, he envisions that those who know about doing liberations and who have liberated many animals will teach and share that knowledge with others.
Please rejoice in all the lives saved and thank you to all the kind donors, Ven. Drachom and the students of Amitabha Buddhist Center who help to make all this possible.
The Animal Liberation Fund was pleased to offer US$3,000 to MAITRI Charitable Trust, which, through its Animal Care Program, has taken on the responsibility for providing essential care to hundreds of animals in need in Bodhgaya, India, since 1994. This donation was specifically intended to cover the cost of food for 45 goats and 25 chickens that have been saved from death. The annual cost to feed these animals is US$7,117. 
The Animal Liberation Fund is extremely happy to support MAITRI Charitable Trust in its incredible efforts caring for animals that would otherwise be killed.
You can learn more about what MAITRI Charitable Trust is doing and support their work directly.
Please rejoice in this work. You are welcome to support the Animal Liberation Fund, which supports weekly animal liberations and offers support to other projects dedicated to liberating animals such as MAITRI Charitable Trust. 
Ven. Roger Kunsang recently requested that all FPMT centers need to begin, or continue, regularly offering animal liberations for Lama Zopa Rinpoche's health and long life. The Animal Liberation Fund sponsors weekly animal liberations as well as large animal liberations in Singapore and Hong Kong.

Animal liberation is a specific practice done for animals which would otherwise be killed. The practice involves taking the animals-in-danger around holy objects to leave positive imprints in their minds, reciting mantras for them, blessing water to sprinkle onto their bodies, and then releasing them. This differs from general animal blessings which involve blessing any animal with mantras or a holy object. Animal blessings are, of course, wonderful to do for animals, but this is not what is meant by "animal liberations."
Please refer to Lama Zopa Rinpoche's full advice for benefitting animals.
"Like yourself, all sentient beings want happiness and no not want suffering,  problems or discomfort." – Lama Zopa Rinpoche
You can order the Liberating Animals hardcopy or eBook from the FPMT Foundation Store.
---

Rejoice!
Student Fred Cheong of Amitabha Buddhist Centre, Singapore, has to-date organized the liberation of 181.2 million animals for Lama Zopa Rinpoche's long life. He plans to  liberate 200 million animals by end of 2014 and has committed to liberate 10 million animals total for Rinpoche's health ad long life! Please rejoice in this amazing effort and commitment!
---
You are also welcome to support the Animal Liberation Fund's efforts to sponsor animal liberations around the world.